iPhone 8's 5.8-inch screen to have reserved function area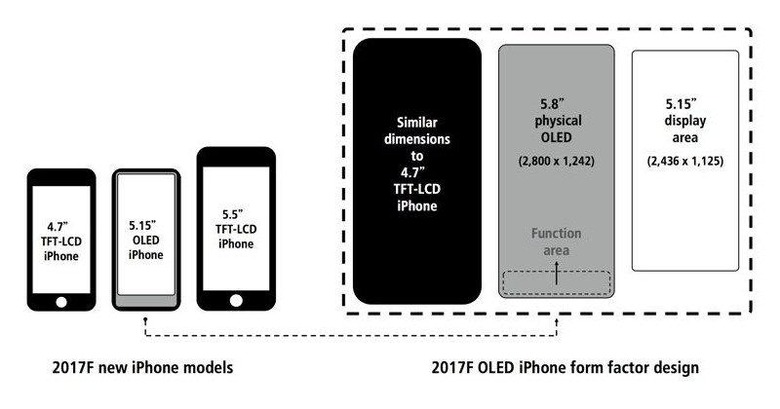 The strange and mythical iPhone 8 just got even stranger and more mythical. According to famed KGI analyst Ming-Chi Kuo, the 10th anniversary edition of the iPhone will indeed have a 5.8-inch OLED display that will indeed take up almost all of the front of the device. That said, only 5.15 inches (in the diagonal) will actually be used for screen contents, says Kuo. The rest of the space is being reserved for a "function area" at the bottom that will house still unknown virtual buttons.
That's quite a lot to take in, if you think about it. It has already been theorized that iPhone 8 will provide an almost bezel-free face, in line with the trends these days. But to do so, Apple had to throw out the Home button as well as Touch ID. However, Kuo suggests you'd be mistaken if you think that all 5.8-inches will be devoted to a regular screen. Instead, there will be a strip at the bottom reserved for virtual buttons, a first for an iPhone.
This is a rather new development in the iPhone 8 story and it still isn't clear what these virtual buttons would do. One would most likely be devoted to the Home button, but it would be a terrible waste of space if that were the only virtual button there. There is a high likelihood that the area would be similar to the MacBook Pro's Touch Bar, with buttons changing depending on the context or app.
But the home button isn't the only thing that the all-display feature has removed. Also gone is Touch ID but, contrary to common speculation, it won't be replaced by an "under glass" fingerprint scanner. Instead, Kuo believes that the iPhone 8 will employ other biometric security systems in its stead, like iris or even facial recognition.
All of these changes, especially the switch to an OLED screen, will make the iPhone 8 a terribly expensive affair. Kuo confirms estimates that the smartphone would start at $1,000 and go up even higher depending on storage. Despite that, he believes that 60% of the 100 million iPhones that he expects Apple to ship in the second half of the year will come from the iPhone 8.
VIA: MacRumors