iPhone 6s and iPhone 6s Plus Review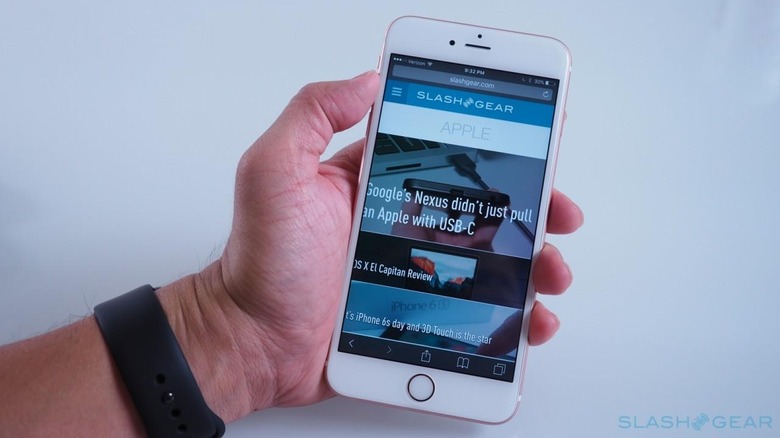 If you listen to the cynics, the "s" in Apple's iPhone 6s and iPhone 6s Plus stands for "same-old". The tick-tock upgrade cycle of the best-selling smartphone has led many to expect revolution one year and then mere evolution the next. Turns out, though, Darwin himself would be impressed by what Apple has achieved with its flagship iPhones in 2015.
Hardware and Design
Glance at the iPhone 6s and iPhone 6s Plus and, unless you've a keen eye to see the new logo on the back, or you're looking at the new- and controversially pink – rose gold model, I'd forgive you for not noticing the difference between it and the iPhone 6.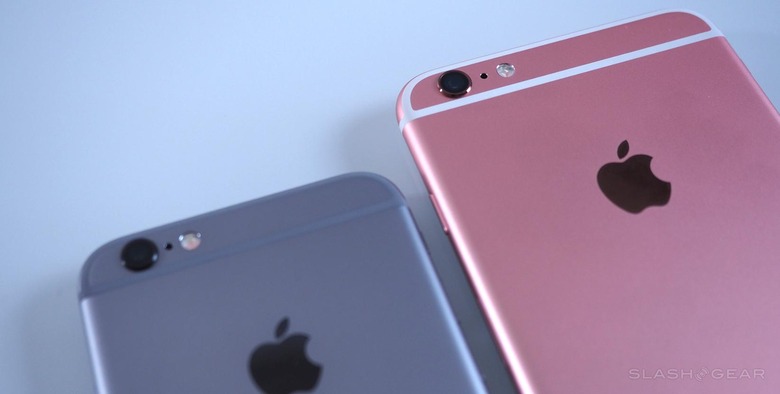 I'm not arguing, mind. It's still a handsome design, but it should be more resilient now that Apple has switched to the same 7000 Series aluminum it uses for the Apple Watch. The display is still either 4.7-inches on the iPhone 6s, or 5.5-inches on the iPhone 6s Plus, and 1334 x 750 or 1920 x 1080 resolution respectively, only now it gets a tougher cover glass.
The near-identical dimensions to the last year's models mean your existing cases should fit, and even though the new aluminum is a little less slippery than the old, I'd still recommend using one since the iPhone can still be tricky to hold.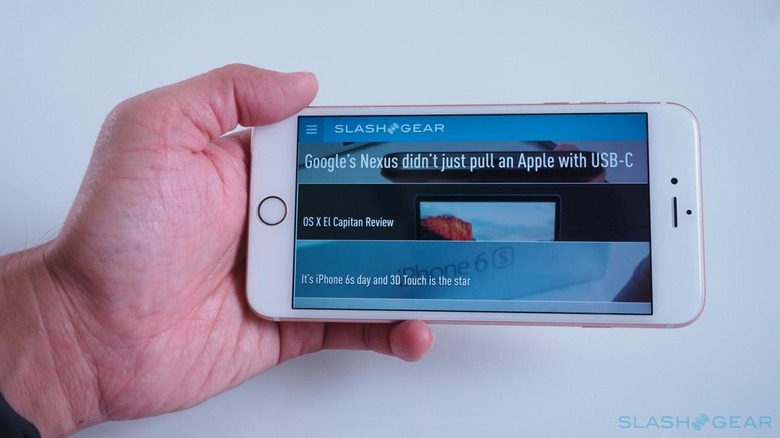 It's inside where the big improvements lurk, and which belie the common impression that an "S" upgrade is iterative rather than anything more serious.
The Apple A9 chipset promises a 70-percent boost in CPU and 90-percent jump in GPU performance over the iPhone 6's processor, and it brings the M9 motion coprocessor onboard, too, for more efficiency. RAM has finally seen an increase, too, now at a healthy 2GB.
It means that iOS 9 simply flies. Apps open instantly, as does the multitask menu. The whole phone feels perky and responsive and, if your networks are up to scratch, data should be delivered similarly quickly. There's now WiFi a/b/g/n/ac with MIMO, Bluetooth 4.2, and LTE Advanced, which means if your router and carrier are doing their part, there ought to be less waiting for webpages and such to load.
As before, Apple offers three models of each iPhone: 16GB, 64GB, or 128GB. Frankly, 16GB feels far too low to me, and I wish the entry-level iPhone 6s had been bumped to 32GB at least. Yes, apps and OS upgrades should be more efficient in how they download in iOS 9, but on the flip side the iPhone 6s now supports space-hungry 4K video. When you don't get a memory card slot, I feel like those users with 16GB devices will all too quickly be looking at cloud storage.
Touch ID
Apple's fingerprint sensor is not only faster but more accurate in the iPhone 6s: the only times I've had it fail to recognize my fingertip is when I've had wet hands, and even then it still figured it out more times than not. Unlike on the iPhone 6 and iPhone 5s, there's no split-second pause while you keep your finger pressed against the home button. The iPhone 6s just unlocks, as though you didn't have security or even a lockscreen enabled.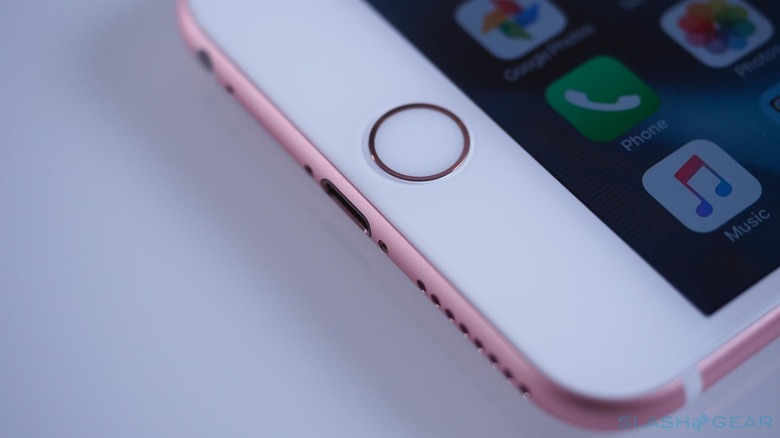 The new turn of speed pays dividends for things like Apple Pay, where even a moment of lag in line at Starbucks can feel like an eternity. Apple is gradually coaxing everyone into activating it, too: the iPhone 6s defaults to a six number PIN when you set it up, not a four digit one as before, and so if you want speed of access then you really need to be using Touch ID.
Unfortunately there's a downside, and at times Touch ID can be simply too fast. If you're in the habit of tapping the home button to check what recent notifications you might have received, get ready to retrain your muscle-memory: you'll either need to use a different finger, unregistered to the system, or click the power button instead, because otherwise more often than not you'll unlock altogether rather than just turn the display on.
3D Touch
Apple was instrumental in popularizing multitouch on smartphones, and now it wants to do the same with 3D Touch. Launched initially as Force Touch on the Apple Watch, the system – effectively a touchscreen that can recognize not only points of contact but their pressure – has graduated to the big leagues on the iPhone 6s and iPhone 6s Plus.
Whereas a long-press is triggered when you hold your finger down for a certain length of time, a 3D Touch happens when you press with a certain degree of force. Apple uses a new array of sensors that track the tiny changes in space between the cover glass and the backlight, spitting out a haptic response – basically a buzz your fingertip feels – when you reach the triggering level.
Apple has a couple of new commands that work with it, dubbed Peek and Pop. Think of Peek as a preview that doesn't drag you out of the app you're currently using: press down on a link in an email, for instance, and a little browser window will bubble up on top to show you what it would look like in Safari.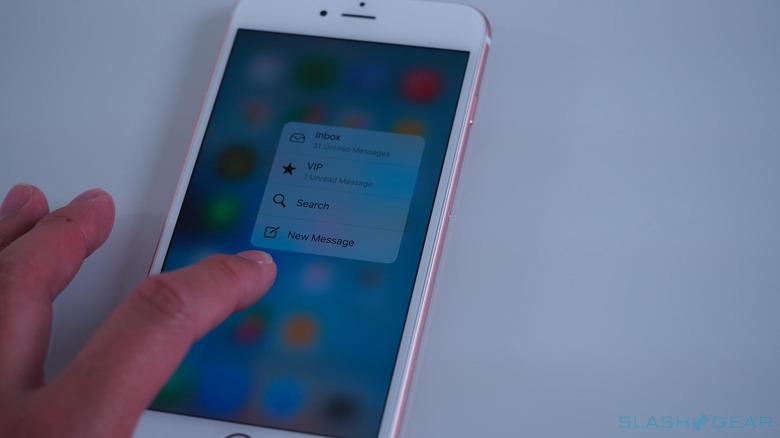 Dates open up a calendar view at the same point in time, so you can see if there are any potential clashes, while locations trigger Apple Maps. iOS can recognize flight numbers, too, and shows those if you Peek on them.
Press a little harder and the linked app itself will open: Apple calls that a Pop. Alternatively, you can lift your finger and you're still at the same place you started out.
3D Touch on the keyboard while you're entering text, and it turns into a trackpad to move the cursor around. If you've ever found yourself cursing your thick fingers trying to navigate the magnifying loupe, it's something you'll quickly come to appreciate.
The other use of 3D Touch is Quick Actions. They're accessed from the home screen, with a harder press on an app icon: you get a list of 3-4 shortcuts that normally you'd have to open the app to access.
So, the Camera icon's Quick Actions include taking a selfie, recording video, recording slow-mo, and taking a photo. Choose any of them, and you immediately jump into the respective mode (though you still have to trigger the photo or recording yourself). The Clock icon offers creating an alarm, starting the stopwatch, or starting the timer, while from the Safari icon you can see the Reading List, your bookmarks, open a new tab, or a new private tab.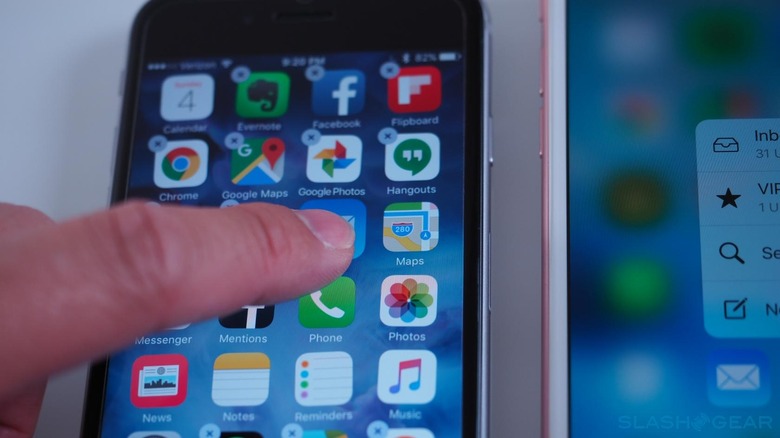 What options you see can be dynamically changed, however, in certain apps. Messages' Quick Action, for instance, includes not only a button to create a new message, but lists the three most recent people you've chatted with. Calendar always shows the option to create a new event, but also gives you a shortcut to the next upcoming event.
Apple has an API with which third-party developers can tap into 3D Touch. If they just want the basics, there are preconfigured force settings for activating a Peek or a Pop; alternatively, they can get the raw pressure data, if developers want to use that in games, art apps, or something else.
That will hopefully address one of the shortcomings of the 3D Touch experience, namely its inconsistency. I'm not blaming Apple for that: its core apps are all updated to support the new touchscreen technology. Third-party software isn't, in general, quite at the same point.
What that means is sometimes you get a Quick Action menu when you press harder on the app's icon, but sometimes you just get a trio of haptic buzzes that tell you there isn't one. Sometimes, you can Peek-press on a link within an app and get a preview, but sometimes the app just registers it as a long-press and you get the contextual menu.
"Sometimes" isn't great for consistency and it doesn't encourage persistence. I wish there was some way to flag which app icons support Quick Actions, for instance, so that you could figure out which will work before you press on them.
As a problem, it'll undoubtedly be mitigated over time as developers get to grips with what 3D Touch can do.
Camera
For the first time in several generations of iPhone, Apple has stepped up its megapixel count on the iSight camera. Now clocking in at 12-megapixels, as well as higher resolution stills it's capable of capturing 4K video, too. On the front, there's a 5-megapixel FaceTime camera for filling iOS 9's "Selfies" folder with better-quality pictures of yourself.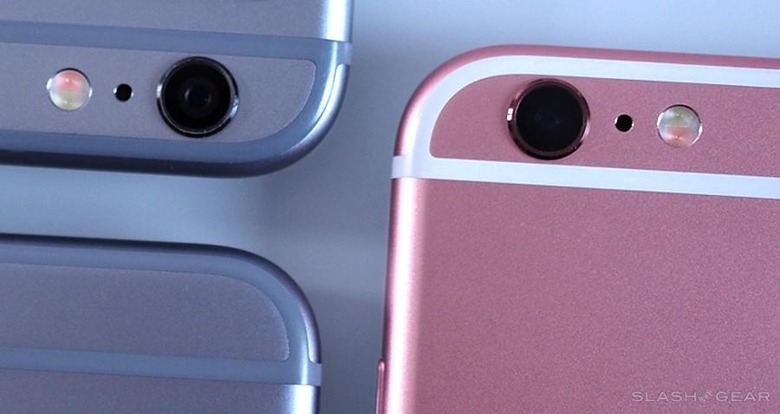 Fitting more pixels into the same amount of CMOS space means, inevitably, that they're each going to be smaller. That would usually be a recipe for noise, but Apple says that some clever sensor handiwork means there's less crosstalk – basically overspill – between the subpixels that make them up.
It's called "deep trench isolation" and it's complicated stuff, but all you really need to know is that the iPhone 6s and iPhone 6s Plus are each capable of excellent images. I was slightly concerned that low-light performance might have suffered, but honestly I haven't seen any worse nighttime images from the iPhone 6s compared to the iPhone 6.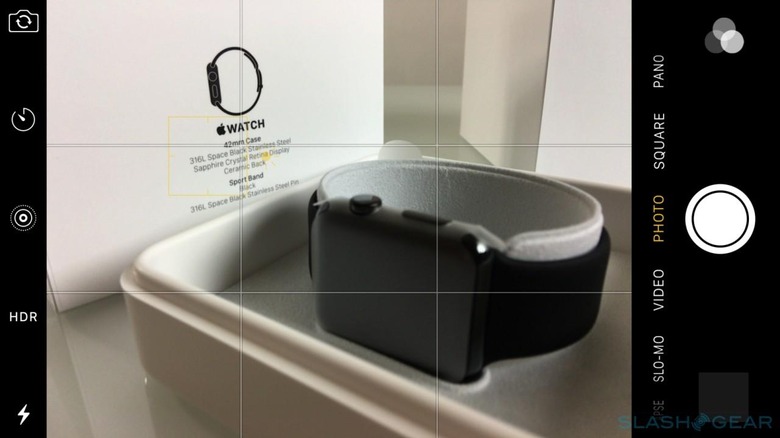 Supply the camera with brighter lighting, however, and the 12-megapixel camera edges ahead of its predecessor. It's not a night-and-day improvement, but it's definitely enough to nudge the iPhone 6s back into the major leagues with some of the strong Android camera competition we've seen over the past few months.
If you can't deliver natural light, not only is the usual color-mixing LED flash on the back still included, but now your selfies get similar treatment. Apple uses the display as a flash, quickly sampling the color map of the frame and then briefly pulsing the backlight at around 3x the regular brightness. Though if you're close to the camera you can still end up a little over-illuminated compared to your background, for the most part it works well.
(See more photo examples in the iPhone 6s and iPhone 6s Plus gallery below)
There are a few lingering drawbacks, mind. I'd love optical image stabilization (OIS) on the smaller, more pocket-friendly iPhone 6s, but it's limited to the iPhone 6s Plus online; both get digital stabilization which, though reasonable, isn't as good as proper hardware OIS.
As for 4K video, there are some good reasons why Apple leaves it off by default. For starters, Ultra HD is greedy when it comes to storage: figure on 375 MB per minute of footage. The end result looks fantastic, mind – we're talking the sort of quality that would've demanded a dedicated 4K camcorder not all that long ago – but doing anything with it, whether uploading it, processing it on a Mac (ironically iMovie on the iPhone 6s proved much faster at crunching through 4K footage than my Mac Pro was), or just saving it for later takes time and effort.
Considering how good the 1080p video is – available in 30fps or 60fps – and the limited audience of people with a 4K-compatible display, it makes sense to leave Ultra HD for special occasions. That given, a toggle switch within the camera app to switch it on would be useful; Apple puts that option in the settings page instead, presumably so you don't activate it by mistake.
Above you'll see a video captured with the iPhone 6s Plus at a Chevrolet event in low light. This video is captured at 1080p resolution.
Below you'll see a video captured with the iPhone 6s Plus in bright daylight. This video is captured at 4K resolution.
Live Photos
"Pictures that come to life" might be the epitome of a "magical" Apple promise, but that's what Live Photos can do. Switched on by default – you can tap the sonar-like circular icon in the camera app to turn them off if you prefer – they grab not only the 12-megapixel still when you hit the shutter button, but a brief video clip before and after that point.
3D Touch on the photo and the whole thing animates, complete with audio. You can set them as your Lock Screen wallpaper, or drop a bunch into a folder, point your Apple Watch at it, and have it cycle through the clips every time you lift your wrist.
Certainly, Apple isn't the first to combine stills and short bursts of video – HTC and Microsoft have each tried it, among others – but arguably Live Photos stands the best chance of making it into the mass market courtesy of the iPhone's footprint.
I've found the degree to which Live Photos are received by people depends on what fast-moving, unpredictable things they have in their lives – I'm mainly talking kids or pets, but I imagine race car enthusiasts will find plenty to like here, too.
My colleague Chris Davies, for instance, who has also been testing the iPhone 6s was mostly non-plussed about Live Photos initially. That's changed since he was joined by a couple of new rescue cats, however.
There's something charming and engaging about the hybrid images, from the way they shimmer with brief activity as you scroll through in the gallery – a cue that they're a Live Photo not a regular one – to how they encapsulate just a little of the background from the picture itself. My kids particularly love them.
Unfortunately, right now sharing them isn't as smooth as it could be. You can send a Live Photo to someone else running iOS 9, with an Apple Watch on watchOS 2.0, or with OS X El Capitan on their Mac, and they'll be able to see the animation.
However send it to someone by email, to a device running an earlier version of iOS 9 or OS X, or to an Android or Windows device, and they'll only see the still image. It's not just that the video isn't visible, it's actually stripped completely from the file.
It won't always be that way, however. Facebook, among others, is working on ways to embed Live Photos into public posts, which should make online sharing much more straightforward. Meanwhile, Apple is cooking up a Live Photos API that will allow for app-to-app sharing, along with smarter recording so that the occasional post-photo swoop when you tilt your phone down after taking a picture is trimmed from the video.
Battery
Despite being the same size as their predecessors, and actually a little – though just noticeably – heavier, the iPhone 6s and iPhone 6s Plus have less battery capacity than before. You can blame the 3D Touch system for that, since the various touchscreen sensors and Taptic haptic feedback engine claim a little more internal space for themselves than the old, multitouch-only panel.
So, the iPhone 6s gets a 1,715 mAh pack, and the iPhone 6s Plus gets 2,750 mAh, and of course they're non-user-replaceable which comes as no surprise but still frustrates some would-be buyers.
As a heavy user myself, particularly when it comes to photos and video, I was a little concerned that the smaller batteries and greater performance would add up to less time off the Lightning charger. Happily that hasn't proved to be the case.
Even with all my use, I never failed to get through a full day on either the iPhone 6s or iPhone 6s Plus. Certainly, you could argue that multiple-day use is what smartphone manufacturers should be aiming for – and, to be honest, with more typical use I could see the iPhone 6s Plus stretching well into a second day, in part because power consumption while idle is impressively low – but that would demand thicker phones which is counter to the "thin is in" attitude most have.
Wrap-Up
Should you upgrade to the iPhone 6s or iPhone 6s Plus if you're an existing iPhone 6 owner? I certainly missed 3D Touch when I switched back to the older devices, and Live Photos – which can be watched on the previous iPhone, but not captured – are now my preferred way to shoot pictures, but neither, especially at this early stage in third-party apps that recognize touch pressure, are deal-breakers in their absence.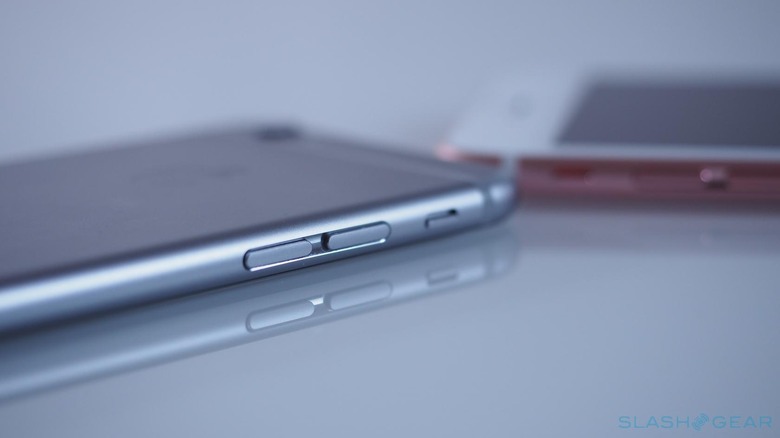 The big improvements in iOS 9 have left the iPhone 6 feeling snappy too. All the same, the beefier – though ironically more power-efficient – A9 chipset and extra RAM are better future-proofing for the next-generation of intensive apps, and you just know they'll be making use of 3D Touch in ways that will increasingly leave those with older iPhones looking envious.
Consistency, convenience, and speed. If you were ready to write-off the iPhone 6s and iPhone 6s Plus as Apple merely tinkering with the – admittedly best-selling – iPhone 6 formula, you really need to think again. 3D Touch has the potential to be as game-changing in the way we interact with our smartphones as multitouch was, while 4K support could finally popularize Ultra HD video.
The "s" stands for "surprise": the new iPhone really is that good.
Chris Davies contributed to this review
[gallerybanner p=407745]