iPhone 5 next-gen features "not needed" by consumers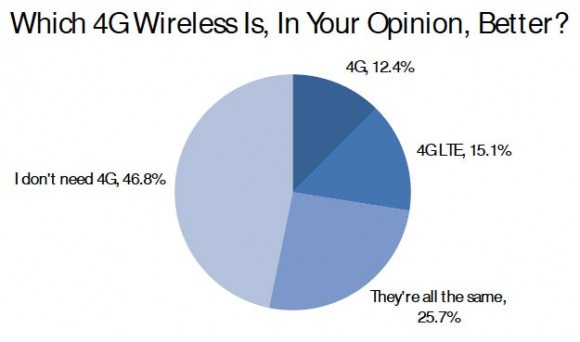 A lot of people are expecting to see 4G LTE capabilities in the next iPhone, but a new poll suggests that a significant percentage of smartphone users aren't all that interested in the feature. According to a new poll from Piper Jaffray, 46.8% of consumers say they don't need 4G LTE. Piper Jaffray surveyed 3,000 people to arrive at this conclusion, which given the current 4G LTE push we see coming from carriers, is rather surprising.
Aside from those 46.8% who say they don't need 4G LTE, another 25.7% think that all of the available 4G networks are the same (but don't tell Verizon that). In all, 51% of respondents said that they either don't know who offers the best 4G LTE network or think that all of them are the same anyway. A paltry 15.1% of respondents said that 4G LTE is the best network technology available today, and when it comes to who offers the best network, those with an opinion gave Verizon the crown, with the likes of AT&T and T-Mobile missing out on the top spot.
Piper Jaffray senior analyst Christopher Larsen said that this mixed bag of results is actually good for everyone. Verizon, for instance, is clearly benefiting from a level of brand recognition that the other carriers weren't able to achieve, but the fact that so many consumers don't have an opinion about the different 4G networks means that there's still time for those other carriers to capture some consumer attention. In the end, the surprising results of this poll show that there's still plenty of time for all of the carriers to get in on the 4G LTE action.
But those carriers will obviously have to convince these indifferent consumers that 4G LTE is indeed the way to go, and show them that 4G LTE brings actual benefits outside of just being a buzz term. If anything, this poll should cause carriers to push 4G LTE even harder, as it shows that a number of consumers out have yet to convert. That fact will likely translate into dollar signs for carriers who are gearing up for 4G LTE pushes, so keep an eye out for that.
[via CNET]