iPhone 4S Hands-On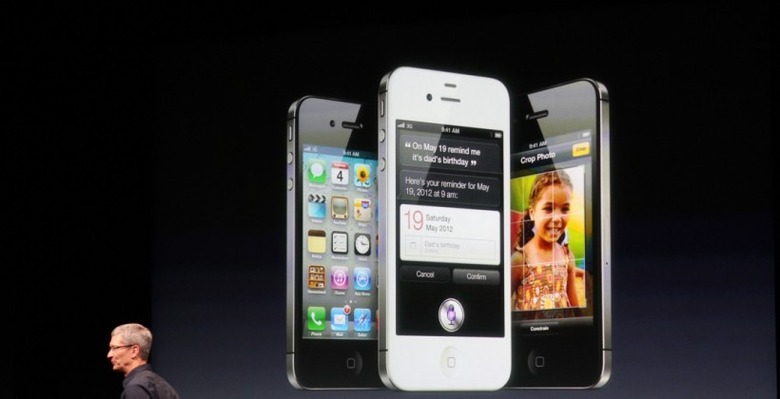 The Apple iPhone 4S is here, and as soon as Tim Cook's keynote was over we spent some hands-on time with the new iOS 5 smartphone. Much of the magic is now hidden behind a familiar face, but things like Siri, the boosted camera and a core speed improvement will be enough reason for many to upgrade. Check out our full first-impressions after the cut.
The fact that Apple has left the external design unchanged may frustrate many would-be upgraders, though it's hard to be too disappointed when the handset – even over a year old – remains the thinnest smartphone around. It's still 9.3mm thick, impressive when you think Apple has made it a single World Phone with support for both GSM and CDMA networks. We won't be able to speed-test the HSPA support until we have more time with a review unit, but Apple is promising speeds that are the equivalent of what some networks – and rival devices – claim is 4G. Still, we compared load times of the New York Times homepage over Verizon's EVDO Rev.A connection and Apple's WiFi network, with only a couple of seconds difference.
In the hand it may feel like the same device, but in practice the "S" in 4S could easily stand for "Speed." Now with the dual-core 1GHz Apple A5 inside, with what is claimed to be 2x the performance and 7x the graphics speed of the iPhone 4, it's all round a faster phone. Navigating between apps has never been slow, but there's literally no lag to be found. Webpages rendered instantly, while pinch-zooming was silky smooth.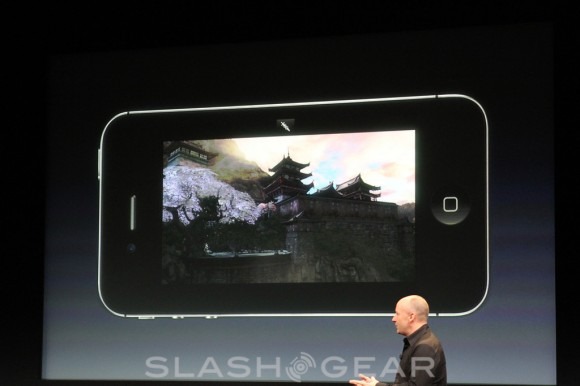 The camera app – 2-3x faster, Apple says, than rival devices such as the DROID Bionic – is further evidence of the speed boost. Simplicity has always been one of the iPhone photography strong points, and while there are new settings options in the iPhone 4S, such as image stabilization and control over exposure, it's still very intuitive. For the first time there's 1080p Full HD video recording, at 30fps, while the VGA resolution front camera – which also supports 30fps – handles FaceTIme video calls.
Siri is arguably the main draw. Apple's new voice-control assistant, Siri makes promises that we've learnt to be wary about over the years, but after a brief test we're surprisingly impressed. Easily activated, with a new microphone icon on the regular on-screen keyboard, Siri managed just what it did on-stage during the keynote. We could ask it local information, such as the weather or to find nearby stores, while online searching and complex questions for Wolfram Alpha were handled with little delay. Speed can be the killer for services like this – people just won't wait if their phone takes 30 seconds to look up an answer – but Siri delivered in just seconds.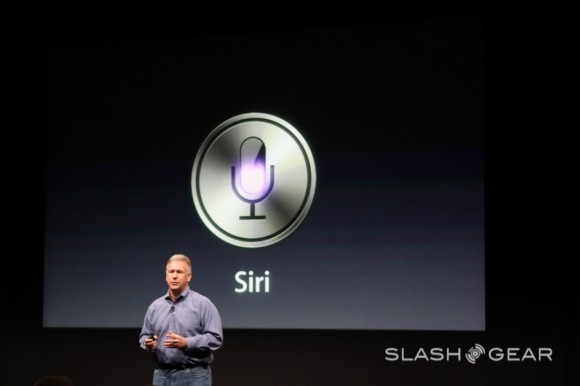 Even complex tasks, like accurate transcription, seems comfortably within Siri's abilities. It's the interaction between existing data – like calendar entries – and new commands, such as setting up appointments by voice that are likely to really impress users, however. Usability is slick as well: whether you're in the lock screen or the homescreen, you can hold the iPhone 4S to your ear and Siri will automatically kick in. Again, we'll have to put it through its paces when we review the iPhone 4S, but first-impressions are very, very good.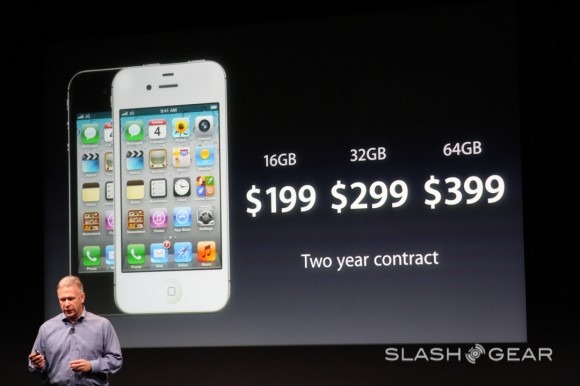 Factor in the fact that the same accessories will work with the iPhone 4S as do with the iPhone 4, and that the pricing is the same, and there's plenty to like.
Update: Apple wasn't allowing live photos and video from the hands-on session post-keynote, so we'll have to wait for the review to show you all the details!