iPhone 4S data speeds to be faster on AT&T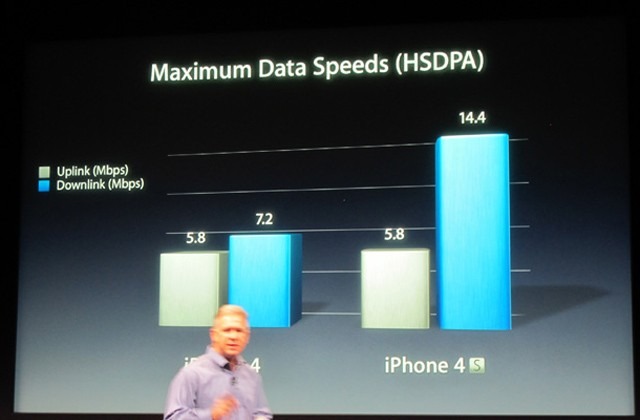 If you're considering the iPhone 4S, you now have three of the four major US carriers to choose from, with the nation's third largest being added to the mix that currently includes AT&T and Verizon. Since the iPhone 4S is now a dual-band world phone, the same model will be available to all three carriers, making the choice more a matter of network preference. However, Apple has given AT&T a bit of an advantage.
When Apple unveiled the iPhone 4S yesterday, it was disappointingly without LTE or WiMAX support. Instead, Apple increased the device data speed to support the "faux-G" 14.4Mbps data speeds of AT&T's HSDPA network, which currently offers other "faux-G" devices such as the HTC Inspire 4G and the LG Thrill 4G. Although not LTE or WiMAX speeds, this is still an improvement over the 7.2Mbps downlink data speed of the 3G iPhone 4.
Hence, when it comes to the iPhone 4S on the other two carriers, the device will be limited to only their 3G networks, which may hit at most 2.5Mbps downlink data speeds. However, they each have their own advantages as well, with big red being touted as the nation's most reliable network for voice calls and big yellow offering unlimited data plans for the iPhone 4S.
Your choice then boils down to your preference for data speed, voice call reliability, or unlimited data. For more details on the iPhone 4S itself, make sure to check out our hands-on. The device will be available on October 14, with pre-orders starting October 7.
[via VentureBeat]