iPhone 4S activations, iOS 5 downloads face delays from traffic overload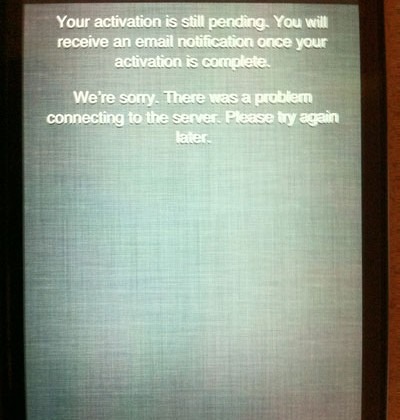 Apple released iOS 5 on Wednesday and officially launched the iPhone 4S today to massive lines. But things have not been going so smooth for Apple fans and early adopters attempting to either download iOS 5 or to activate their iPhone 4S. The massive load of traffic on AT&T and Apple servers have caused many to experience either errors or messages that the process they're attempting is still pending.
Several AT&T iPhone 4S owners that attempted to activate their devices encountered server issues and got messages stating either that "iPhone activations are unavailable at this time," or that "Your activation is still pending. You will receive an email notification once your activiation is complete. We're sorry. There was a problem connecting to the server. Please try again."
This isn't the first time AT&T's servers went down during a mad iPhone rush. Back in 2009, activations for some new iPhone 3GS owners took up to two days. However, the iPhone 4S launch may be Apple's largest debut so far, selling more than 1 million pre-orders in its first day, breaking the iPhone 4 sales record of 600,000.
Folks wanting to upgrade to iOS 5 on their current iPhones also had issues as Apple's servers faced a immense amount of traffic. Many who tried to download iOS 5 on Wednesday were faced with "Error 3200" or "Internal Service" error messages because their devices could not connect with Apple's servers.

[via Apple Insider]