iPhone 4 Scalpers Force Apple to Shut Down Beijing Flagship Store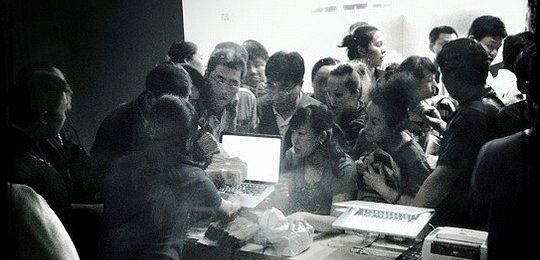 The Chinese grey market is a lucrative place to find gadgets, and pretty much anything else. Popular items include high-priced gadgets, like many of Apple's devices, and it looks like the iPhone 4 hasn't escaped the attention. All over the world where the newest iPhone is sold, it's a common practice for customers to buy up a large quantity of the devices, and then send them over to China, where they can be re-sold in the grey market. That practice is going strong, as it was revealed today that Apple was forced to close their flagship Apple store, located in Beijing, due to scalpers of the iPhone 4.
Some could argue that, due to the fact that the Beijing location didn't have a limit on how many iPhone 4s customers could buy at one time, that they were setting themselves up for the disaster that ensued. The original sales limit was two, but at some unknown time, that limit was lifted, and the pandemonium began. Customers rushed the desk and Apple employees, waving their money around. When they finally did manage to get their hands on an iPhone 4, there were reports that people were leaving the store with 20 to 30 boxed iPhone 4s in their possession.
The police were eventually called to the Beijing store, where they were forced to bring some order to the chaos that had erupted. After everything was settled down, it looks like the Apple store figured out what was causing the trouble, and a fix was put in place. Throughout all four Apple locations in China, customers are now required to show their identification card to purchase an iPhone 4. Furthermore, customers are now only able to buy one iPhone 4. The Apple employees will then unbox the iPhone, activate it, and then hand it over to the customer. That keeps the people from selling the iPhone 4 as "brand new," and making a profit from its sale on the grey market.
[via 9to5 Mac]