iPhone 3.0 Beta 3 released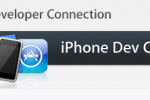 Apple posted the third version of the iPhone 3.0 Beta for developers to download and play with. Reports are that the beta offers speed increases, Spotlight Search saving and minor changes for MMS on German networks.
It seems that Apple has been pushing out Betas much faster than usual. It's been roughly two weeks since the previous beta dropped, and two weeks before that was the initial 3.0 beta.  The 2.0 beta software was much slower to be rolled out, with more than two weeks in between betas. At this rate, we might see multiple more betas before the June 8th WWDC, where it is expected that the iPhone and iPod Touch 3.0 software will be made available to the public.
Apple announced the iPhone 3.0 software update back in March at a small meeting in the Apple town hall. The iPhone 3.0 software will include many updates, including cut, copy and paste, MMS, Spotlight Searching, and Push Notification API's for developers to use in their applications, as well as many other additions.