iPad will continue to lead in 2016, says Gartner
Market research firm Gartner has released its latest forecasts for worldwide media tablet sales to end-users, revealing that the iPad will continue to take the lead through at least 2016. Its forecast estimates tablet sales for 2012 to be 118.9 million units, which is up 98 percent from the 60 million units sold in 2011.
Apple's iPad is projected to dominate with a 61.4 percent share of worldwide tablet sales in 2012, despite the international roll-out of the Kindle Fire and the arrival of Microsoft's Windows 8 tablets later this year. The iPad will continue its lead through the forecast period, with a 45.9 percent share in 2016.
Microsoft's Windows 8 tablets are expected to account for 4.1 percent of tablet sales this year and grow to 11.8 percent in 2016. Although Microsoft appears to be pushing for more consumer appeal with its Metro UI in Windows 8, Gartner believes that its offerings will still mostly appeal to enterprise IT departments.
Gartner also expects enterprise sales to account for about 35 percent of total tablet sales in 2015, but that these sales will not be strictly defined by enterprise tablets. Many of these will be part of a "buy your own device" program that are purchased by consumers for work. This can become a problem for companies like RIM, which have focused primarily on enterprise.
Meanwhile, Android tablets are expected to account for 31.9 percent of sales in 2012 and will continue to grow steadily through the forecast period, reaching 37.3 percent of sales in 2016. Gartner believes one of the main issues with Android is the lack of tablet-specific apps.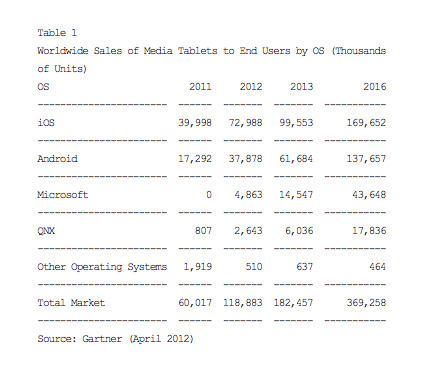 [via MarketWatch]