iPad minis now ship in one week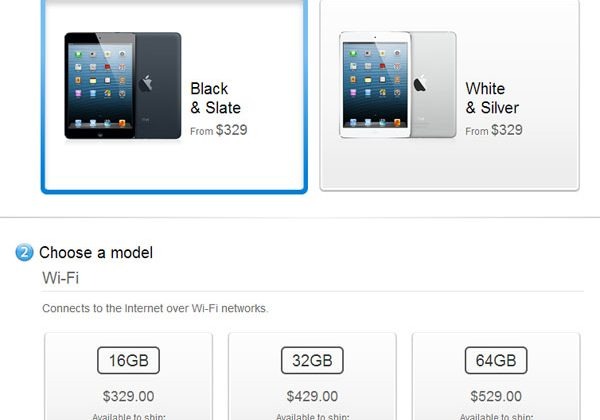 We're less than a couple weeks away from Christmas now and if someone on your list wants an iPad mini, you may still have time. The iPad mini has been hard to find since it launched and only recently had a two-week shipping delay. Apple has now announced that it has a limited supply of the new smaller iPad on hand.
The shipping delay has now fallen to one week after being two weeks only a few days ago. That means if you order now there is a chance you can get an iPad mini in your hands and time for Christmas. Pricing remains the same on the Wi-Fi version of the tablet with a 16 GB version selling for $329, the 32 GB version selling for $429, and 64 GB version selling for $529.
All capacities of the tablet have the same one-week shipping delay. Versions of the tablet supporting Wi-Fi and mobile data are also available on one-week delay with AT&T, Sprint, or Verizon. Pricing on the tablets with mobile broadband connectivity remain the same with the 16 GB version for $459, 32 GB version for $559, and 64 GB version for $659.
Those prices don't require a contract with month-to-month service. The iPad mini has a 7.9-inch display and has proven to be one of the more popular Apple gadgets for holiday gift giving. If you want one of these tablets, you should act fast, Apple says limited quantities are available.