iPad Lock and Security Case will protect your iPad from pilferage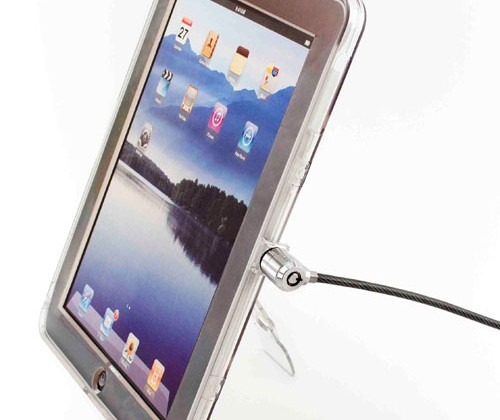 I really like my iPad and I'd be pissed if it was stolen. If you like to take your iPad to work or if you work somewhere the iPad would make for a good sales tool, but you fear the thing would get stolen a solution has now surfaced. The solution is called the iPad Lock and Security Case bundle. The bundle has a protective case that will offer you protection for your device.
That case has a port on the side that you can slip a locking cable into that reminds me a lot of the Kensington locks for notebooks. Once you lock the case to the iPad and secure the Chain a thief can't remove the case without damaging the iPad. I guess you will either foil the thieves or get a broken tablet.
The cable weighs under a pound and is designed to be easy to take with you on the road. The bundle ships with a free screen protector as well. You can pre-order the case and cable bundle right now with a single unit for $64.95 and if you need 100 or more the price drops to $59.95 each.