iPad, iPhone assembly lines to get X-ray inspections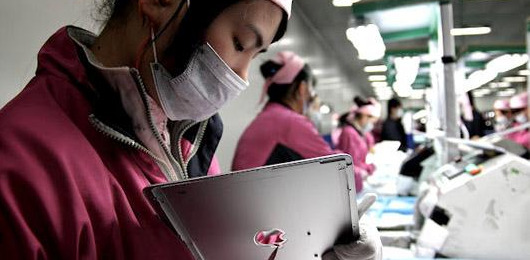 Apple's long-time iPad and iPhone manufacturing partner, Foxconn, is adding X-ray inspection to its assembly lines. Citing a source with first-hand knowledge of the new development, CNET reports that Foxconn has begun purchasing these X-ray machines in "unprecedented quantities." However, it's unclear whether this means the company is attempting to reduce labor costs or trying to cut back on rising production defects.
The X-ray inspection machines are said to rely on software algorithms to quickly inspect solder joints and printed circuit boards at speeds that keep production flowing. Foxconn, which currently employs 1.2 million workers in China and is Apple's primary manufacturer, is believed to be buying massive quantities of these new systems as part of its plans to increase automation in its assembly lines. In a recent inside look at the factory by ABC News, it was revealed that the iPhone is essentially handmade by workers in a process that takes 141 separate steps.
Faced with increasing criticism on working conditions, Foxconn raised wages by as much as 25 percent last month. Its move to invest more in automation may be a response to the pressures from increased labor costs. However, it could also suggest a rise in quality issues on the production line.
Apple's orders for the iPhone and iPad continue to rise as demand seems never satiated. Last quarter, Apple's iPhone sales grew 128 percent, while iPad sales grew 111 percent. The next-gen iPad, possibly called the iPad 3 or the iPad HD, is expected to debut at an event on Wednesday, March 7. We'll be covering the event live, so be sure to stay tuned here on SlashGear.
[via AppleInsider]