iPad has the least issues, says FixYa tech Q&A site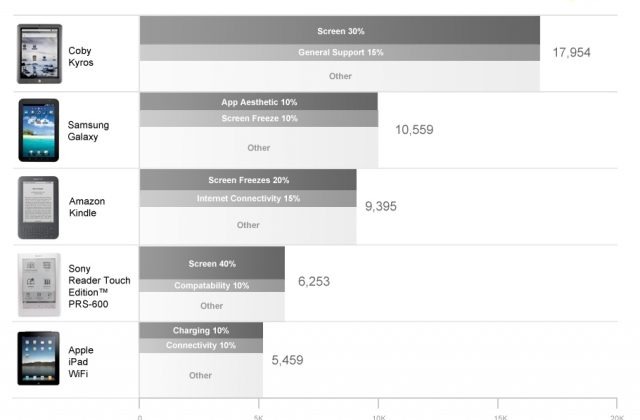 Tech Q&A site FixYa has released the number of support issues logged on its site for popular devices over the holiday season, revealing that the iPad is the least problematic in the tablets category. The data also revealed which issues were most prominent with each device, such as screen or connectivity problems.
According to FixYa's data, of the top tablets consumers had issues with during the 2011 holiday season, the Coby Kyros had the most support questions, followed by the Samsung Galaxy Tab, the Amazon Kindle, the Sony Reader Touch Edition PRS-600 and then the Apple iPad WiFi version with the least issues. The main issues for the iPad involved charging and connectivity while the Samsung Galaxy Tab had app aesthetic and screen freeze issues.
FixYa's data also covered game consoles, which took the top three spots for most support questions and "visits per device" overall on the tech site. Microsoft's Xbox 360 had the most questions, followed by Sony's PlayStation 3, and the Nintendo Wii. Rounding out the top seven consumer products with the most visits per device was Microsoft's Office Pro 2007, the Apple iPhone, Samsung Star GT-S5233, and the Nintendo DS-Lite.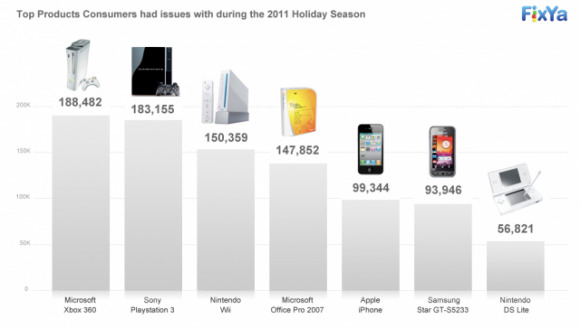 [
TechCrunch]