iPad Enterprise Adoption Up To 80% In Fortune 100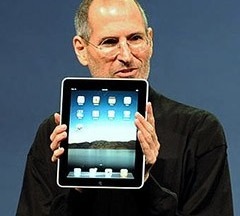 The iPad once viewed as simply a consumer device for media consumption is gaining traction at the enterprise level. Some of the largest companies in the world already use or plan to use the device as an enterprise tool. The rate of enterprise adoption in Fortune 100 companies is reported to be 65% according the Wall Street Journal and 80% according to Network World.
In Network World's report, large companies already utilizing the iPad as an enterprise tool include Dupont, JP Morgan Chase and Wells Fargo. An appealing feature of the iPad for enterprise customers is the increased security of iOS 4 that involves application level encryption as well as the ability to remotely wipe a device should it be lost or stolen.
iPads incorporation into the enterprise market seems to stem from its overall popularity with consumers including those who work for those large companies, rather than any intentional marketing push made by Apple. The enterprise leader, Microsoft, has yet to release a tablet as promised for 2010, and is missing out on this early integration of tablets at the enterprise level.
[Via TUAW]