iPad 3 Retina Display allegedly confirmed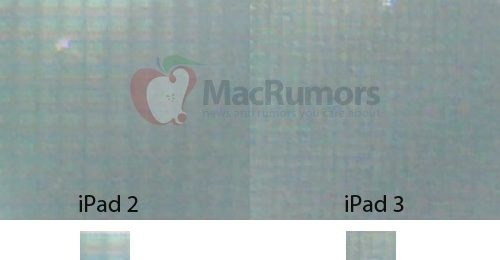 The most persistent rumor for Apple's next-gen iPad is the use the introduction of high-resolution Retina Display similar to what's been offered on the company's latest iPhones. And today, more claims support the rumor with an close-up examination of what's allegedly the display component of an iPad 3.
MacRumors claims to have obtained an iPad 3 display component and compared it to an iPad 2 display. Upon first glance the look rather similar, both sporting a the 9.7-inch diagonal size. But with close examination, and by that we mean under a microscope, the pixel density was noticeably different.
Not being able to power up the display, MacRumors examined the screens under a microscope to reveal that the iPad 3 display had double the pixel density of that on the iPad 2. Based on this finding, the iPad 3 would sport a full resolution of 2048 x 1536 compared to the iPad 2's 1024 x 768 pixel resolution.
Besides the higher-resolution display, the iPad 3 has also been rumored to feature a new A6 chip, larger battery, Siri integration, and LTE support. We'll find out if any of the rumors pan out come March 7, when Apple is expected to unveil the next-gen iPad.