iOS hacker Pod2g launches PodDJ for iPad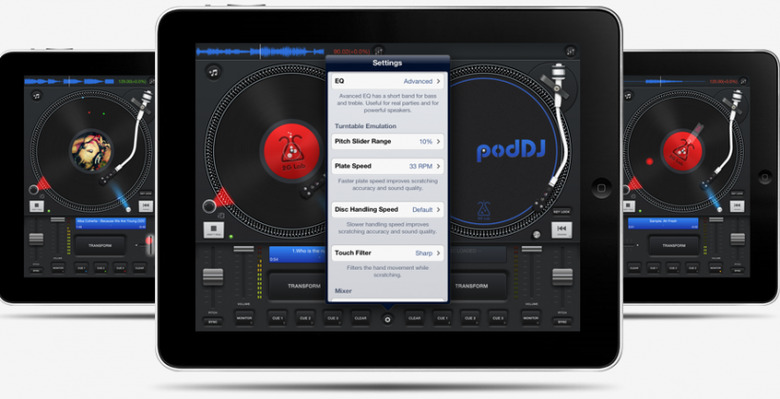 If you're familiar with jailbreaking, then you're undoubtedly familiar with iOS hacker extraordinaire Pod2g, who's responsible for the Absinth 2.0 release for iOS devices running iOS 5.1.1 back in May — his most recent endeavor. However, he's been focusing on a slightly different area of iOS, and that's app development. Pod2g released PodDJ today for the iPad.
We've seen plenty of DJ apps for the iPad in the past, but Pod2g claims that his app turns the iPad into "the most realistic virtual turntable you have ever seen," allowing you to mix and scratch any track in your iTunes library. According to the description, PodDJ is the only app in the iTunes App Store "with which you can truly scratch on your iPad thanks to a brilliant touch to sound reactivity."
PodDJ has been designed to provide you with an interface that's both powerful and easy to use. The turntables and all the controls have been strategically placed so that your hands can navigate around each feature as quickly and easily as possible. PodDJ also claims to be the fastest scratching app in the App Store, boasting a sound output latency of just 5 milliseconds.
The app also offers zero latency cue points, so you'll hear sound as soon as you hit the cue button, and it has zero latency key locks, which means that time shifting is applied at the source of the audio chain so you hear it instantly. Other features include transform buttons, BPM detection, turntable emulation, monitor output, and support for an external mixer. PodDJ will be available to download starting tomorrow. It will be priced at $5.99 during the first two days, and will go up to $7.99 until the end of January. After that, though, you'll have to cough up $9.99.