iOS and Android game spending surpasses dedicated handhelds in Q4 2012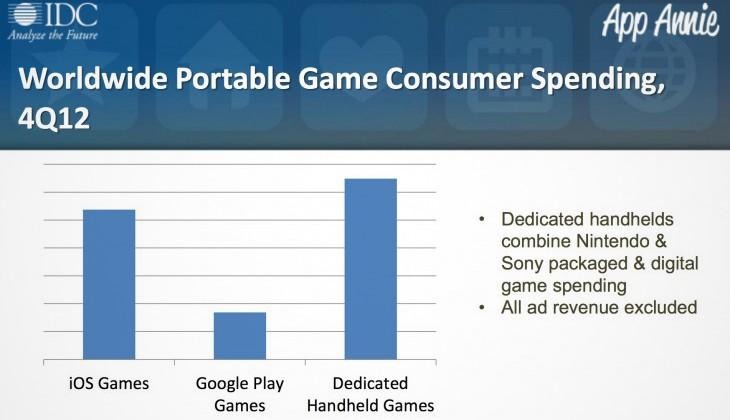 This may not be too much of a surprise given the improvement of games on smartphones and tablets lately, but it looks like the amount of money people are spending on iOS and Android games has actually surpassed the amount of money people are spending on dedicated handheld gaming, like the Nintendo DS and the Sony PlayStation Vita.The report comes from the IDC and App Annie, who collaborated to come up with the findings. They say that during the fourth quarter of 2012, gamers spend more money on iOS and Android games than dedicated handheld devices. That's quite impressive considering that games for handheld devices are cost considerably more than a typical smartphone game.
However, dedicated handhelds received quite a boost over the holiday season, but apparently that still wasn't enough keep up with the Google Play store and the App Store's strong pace. Almost 60% of spending on Android games during the fourth quarter came from the Asia-Pacific region, with Japan and Korea leading the way.
North America accounted for 40% of iOS game spending, with Asia in second, and Europe in third at 25%. As you can see from the chart above, iOS gaming is leaps and bounds ahead of Android gaming, and it almost surpasses dedicated handhelds by itself, but the small slice of Android gaming makes smartphones a more profitable avenue for games than dedicated handhelds at this point it seems.
[via SITENAME]