iOS 6 "Newsstand as app folder" trick discovered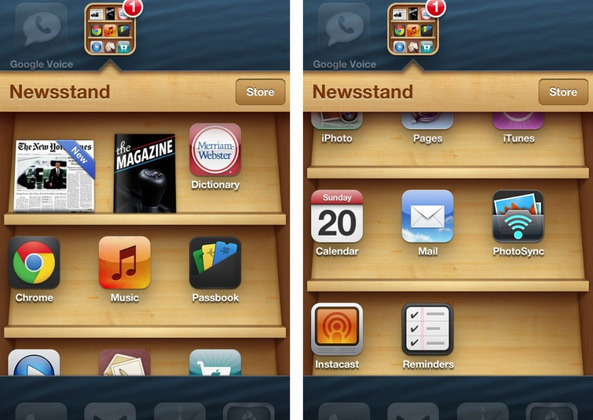 The Newsstand app, which was introduced in iOS 5, can be rather annoying if you don't take advantage of reading magazines and periodicals on your iOS device — it just sits there taking up space on your home screen. If your device is jailbroken, you can hide the app with a simple tweak, but non-jailbroken users will have to deal with. However, a new tweak was recently discovered that allows non-jailbroken users to "hide" apps in the Newsstand folder.
If you have a handful of apps that you want to hide, you could just put them in an "Unused" folder and call it a day, but why not use the Newsstand app anyway in order to kill two birds with one stone? This trick allows you to store any app you want inside Newsstand, and it allows for an infinite number of apps, as opposed to regular folders. Here's how to do it:
This trick requires near-perfect timing, so if you're not quick, you may have trouble getting it right. First, move the Newsstand folder/app to the second page of your home screen, and any apps you want in the Newsstand to the third page. Stay on the third page while you do this next step: Press the home button, and then immediately tap and hold an app you want to move.
Continue holding until your iPhone goes back to the home screen. Once that occurs, release your finger and immediately swipe to the second page. Wiggle mode should now be activated if the trick worked. Then, you just tap on the Newsstand folder to open it, and then press the home botton to close it. The app you initially tapped and held on should now be in the Newsstand folder.
Again, it does take a little bit of practice to do it correctly, so it may take a few tries. You don't need to be extremely fast or anything, but you'll at least need to be quick on your feet. This trick also applies to creating folders within folders. There are some caveats, though. Rebooting your iOS device will remove all of the apps from the Newsstand folder, and you also can't remove the apps from the Newsstand folder without rebooting. Try this at their own risk, and make it quick because Apple may do away with the oddity as soon as they realize it's there.
[via iDownload Blog]