iOS 11 features Apple didn't talk about at WWDC 2017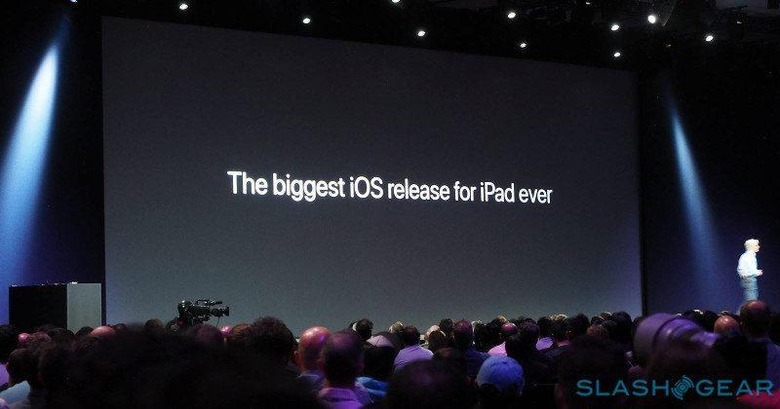 One can only fit so many new features in a single keynote, especially one as big as the iOS 11 update. Naturally, Apple had to prioritize what it wanted the public to know, leaving the fine print for others to find out on their own. And perhaps it doubly intended to leave out some of the nitty gritty, in case they don't turn out to be quite popular. Here are just some of those details that Apple conveniently, or inconveniently, left out, and why some of them might be worth keeping an eye on.Share your Wi-Fi password
Ever had that generous urge to share the Internet love around. Specifically the Wi-Fi password that only you might now? With iOS 11, you can indeed do that with friends who are nearby.
If the feature sounds familiar, you might be remembering Windows 10's ill-fated Wi-Fi Sense feature which allowed you to share Wi-Fi credentials with people in your social circles. That feature was immediately shot down by critics and privacy advocates and was never heard from again. So it's a bit curious to see it take another form on iOS 11.
That said, Apple did learn from Microsoft's blunder and made the feature work only on a per-person basis rather than granting wholesale access. You have to explicitly allow (or not) each attempt by a nearby friend to connect to the same Wi-Fi network you're one. Whether that has any security and privacy holes is something we'll have to watch out for when iOS 11 makes its final descent.
Offload apps to the cloud
Almost all of us have experienced uninstalling apps to free up on storage space, only to later realize we really need or want that app after all. Tough luck, because you'll have to start from scratch. Unless you're on iOS 11 and enable offloading of unused apps.
Those who have heard about the Nextbit Robin Android phone might be familiar with this setup. Unused apps are "offloaded" from the phone, that is, they are technically uninstalled. However, unlike a normal uninstall, documents and data associated with the app aren't wiped. When you decide later on to bring back the app, you won't need to start from scratch all over again. It isn't clear whether this is something that can be triggered manually or if you have to agree that Apple knows best.
No more fooling trialware
Back in April, a report came out that Apple CEO Tim Cook chided Uber's Travis Kalanick over tracking user's iPhones, a measure Uber employed to combat cheating in China. Ironically, now Apple itself is providing developers the ability to do so. Of course, it isn't handing them everything on a silver platter.
App developers who opt into this feature called DeviceCheck will have to send Apple two bits ("binary digits", limited to 00, 01, 10, and 11) and a timestamp for each device the app is installed on. Apple only stores the data but doesn't know what those mean. The app developer can associate those bits with whatever system they have in place. "01", for example, may mean that the device had a free trial that already expired. That piece of information sticks to the device even after it has been reset, pretty much like what Uber was doing before.
Apple perhaps conceded to this kind of tracking to stop developers from using potentially insecure methods to track devices. This way, there will be a canonical method to track devices without violating the user's privacy. And to be perfectly clear, it doesn't track the device's location.
Screen recording
Gamers and tutorial makers rejoice! At long last Apple is officially making it possible to record your screen right on your iPhone or iPad, without having to bend over backwards. In the past, you were at the mercy of QuickTime when trying to produce footage of your epic conquests or create guides for new and curious iOS users.
Now it's as simple as pulling up the new and "improved" Control Center and hitting the record button. Once you've had your time in the spotlight, you can edit the recording and even produce a GIF from it. And you can finally view it in all its animated glory in the Photos app (yet another hidden new iOS 11 feature!).
Control Center Jigsaw
As mentioned, there is a new Control Center, and it probably won't be to everyone's liking. The good news: everything is now in a single page, all the toggles, buttons and sliders you need. The bad news: it's arranged like someone played a quick game of Tetris with it.
Appearances aside, the new Control Center is very powerful, as it gives you a couple more sliders to tweak settings to your heart's content. It even has 3D Touch for more settings hidden behind settings! Just try to ignore the odd arrangement of boxes.
Type with only one hand
Is Apple finally admitting that there isn't one single right way to hold an iPhone? Maybe not, but it is at least giving those who hold phones differently an option. And given how it has permanently departed from its small-sized iPhones, the new one-handed keyboard is more than just nice.
Hidden in the keyboard settings of the virtual keyboard is an option to have a keyboard squished to the left or right side of the screen. Of course, this does mean that each key has less space around it and more opportunities to hit the wrong key, but, like everything with smartphones, it's a necessary evil.
This is just the tip of the iceberg of what's coming in iOS 11. At least the tip that we've discovered so far. And though we would like to celebrate some of those new features, it might still be to early to break out the champagne. iOS 11 is still in beta and, in typical Apple fashion, some features might not make the cut. Suffice it to say, though, iOS 11 is going to be one sweet release, even if it's not named after a dessert.