Iomega px2-300d NAS Review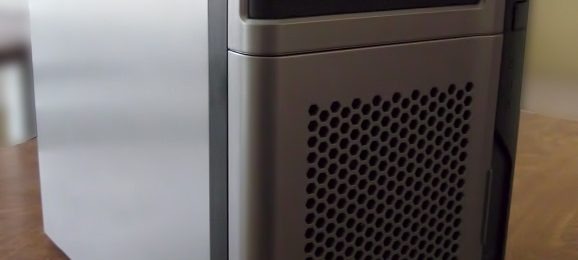 Iomega's StorCenter px2-300d is a NAS unit aimed at businesses and the prosumer crowd, offering features beneficial to both types of user. This particular unit is the 4TB model, but the device is available in up to 6TB varieties, all of which share the same features. While one would initially be tempted to view the px2-300d as a NAS device tailored to the SMB environment, I contend that it also makes an excellent personal server, offering a pleasant mix of appealing design, quiet hardware, easy-to-use software, and high-end functionality. Whether you're a business owner looking for a way to keep your data safe or a prosumer in need a sophisticated personal server, read our full review of the px2-300d to see how the device holds up.
Hardware
Upon picking up the px2-300d, the first thing you notice is that it feels durable; so durable, in fact, I imagine it could take a swift kick and come out of the attack unaffected. The body is constructed from sheet metal, while the faceplate and hard-drive cover are constructed from matte plastic. The back of the unit is solid metal, as is the bottom, which is adorned with four large rubber feet. Overall, the px2 feels like a battle tank of a device, more than durable enough to handle being placed in a potentially precarious location, such as under a desk or atop a busy work surface.
The unit measures 8.91-inches x 4.97-inches x 8.18-inches, and weighs in at almost 9lbs with both hard-drives in place. The NAS is a two-bay unit, with both hot swappable hard-drives housed behind a grated door. You can lock the door, but you cannot lock the individual drives in place; this is rather disappointing, as the door is flimsy, and offers little protection from someone with a sturdy prying tool and ill intent. The hard-drives are server class, while the drive carrier supports both 3.5-inch and 2.5-inch drives.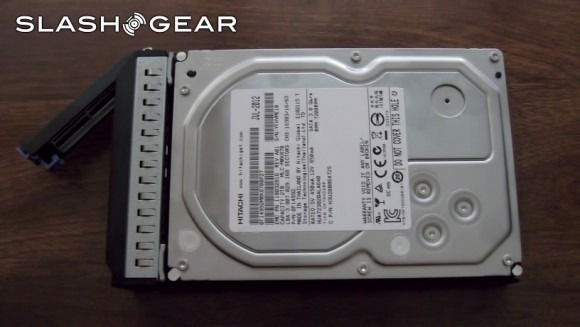 The LCD is large enough to display a decent amount of information, but not so large as to be bothersome; you can place the px2 in an entertainment system setup between the DVR and Blu-ray players, for example, and its display won't stand out obtrusively among the other devices' displays. There are two buttons to the right of the LCD that allow for toggling through the various screens and options. When left alone, the display casually alternates between displaying the network IP address, used/available capacity, and the date and time.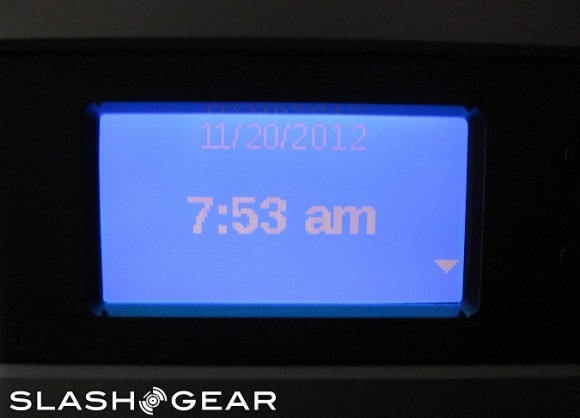 The px2 runs an Intel D525 Atom dual-core 1.8GHz processor with 2GB of RAM, which gives it a combination of decent power and low energy consumption. You have access to one USB 3.0 and two USB 2.0 ports, as well as two gigabit ethernet ports. There is both IEEE 802.3 and IEEE 802.3u LAN standard support, along with RAID 0, 1, and a rotational vibration sensor. Helping make the px2 an all-around accessible device is a VGA port, allowing the device to be used with an external monitor via the MindTree software. There's a USB port conveniently located on the front of the device, as well.
Setup
Setup is simple and fast; the time from when you plug the device in and turn it on to when you've transferred your first file is about five minutes. For the px2 itself, it has an exceptionally long power adapter and includes an ethernet cable, which you'll plug into your router or modem. The device connected to the network almost instantaneously, displaying the IP address on its LCD. From there, users can access the drive via their browser by going to "http://px2-300d," where they can configure the device, install apps, and more. The device supports multiple network file protocols, including NFS (Unix/Linux), AFP/Bonjour (Apple), SMB/Rally/CIFS (Microsoft), FTP, TFTP, and SFTP.
Software
Users will need to install the Iomega Storage Manager application, which can be done via the installation CD included with the drive or by downloading the application from the company's website. Once installed, the application found the px2-300d immediately. A variety of categories are provided under "Shares," including Backups, Documents, etc. Each category is assigned its own drive letter. You can transfer files via the Storage Manager or directly via Windows Explorer. Either way, transferring a 300MB file took only a few seconds.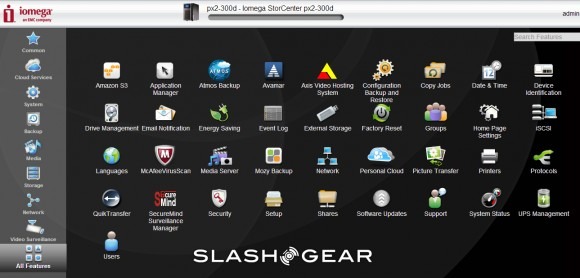 Configuring the device is done via a Web browser by going to "http://px2-300d." It's from here you can install various applications to the device via Application Manager and access the different features. One of the first things I installed was McAfee, a process as simple as clicking on the McAfee icon and verifying that I wanted to install it. Once installed, users can configure system events and schedule tasks, among other things; this provides real-time McAfee VirusScan Enterprise protection, and, according to Iomega, is the only NAS in its class that does so.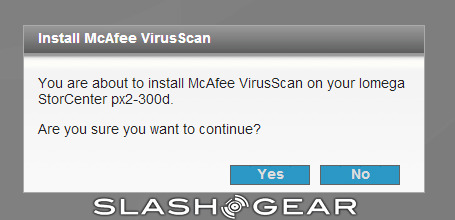 Users can set up the px2-300d to function as a cloud storage solution using the Iomega Personal Cloud, which allows individuals to remote access the NAS via the Web from wherever they are located. Included is a variety of other cloud solutions, including Amazon S3, Mozy Pro, EMC Avamar data duplication, and EMC Atmos. Apple users will be pleased with the ease at which Time Machine integration can be set up.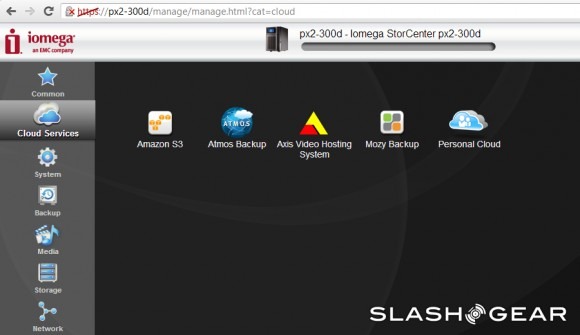 One particularly nice feature is the complete implementation of social networking tools. With the px2, users can parse their various files into folders that are tied to social networking accounts, such as Facebook, where the files will then be automatically uploaded. As with the ix2-200 and other Iomega NAS devices, the px2 has UPnP DLNA for media streaming. The unit is compatible with virtualization environments, as well, including VMware and XenServer.
While the software options are plentiful, perhaps one of the top features is the integration of SecureMind Surveillance Manager. With this application, the NAS can be used as part of a rather sophisticated surveillance system, supporting up to 16 cameras (the ix4-300d only supports 8 cameras). Via the SecureMind software, users can live monitor multiple channels, record videos, and quickly playback a recorded video. Included with the px2-300d is a single camera license to get you started. Combining it all together, the px2 makes a nice, cohesive, and easy-to-use surveillance base upon which a business (or private user) can setup their security system.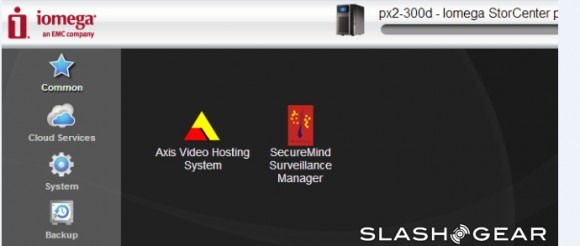 Issues
While the px2-300d ran very well, it did have this particular habit of restructuring data protection seemingly every time the device was powered off, then turned on again. If you remove one of the drives while the unit is running, you'll get an error (obviously), followed by restructured data protection once you reinsert the drive. This is fine. However, multiple times upon leaving the drives in place and shutting the unit down properly, it stated that it was restructuring data protection upon turning the device back on. Fortunately, this can be skipped manually by pressing the top button on the button panel, because total restructuring time averaged three hours. This isn't much of an issue, considering that the NAS device will be up and running most of the time.
Wrap-up
There are many cloud storage options aimed at every level of need. While the 4TB px2's price ($999) will be prohibitive for many users who need a storage solution on the personal level, the benefits of using a NAS unit rather than cloud storage are relevant. Aside from the obvious issues of security and being in possession of the physical hardware harboring your data, you get faster transfer speeds and the ability to easily make data available to users on your network. Businesses will find the px2-300d particularly appealing because, as far as the level of features go, the price is rather modest, and the unit does what it claims to do, and it does it well. For the prosumer, the px2 offers a host of features that make it more than some network-accessible hard drives.
Overall, the px2-300d is an all-around excellent storage device. It runs relatively quiet when not crunching away at data, looks nice intermingled in with other hardware, and, most importantly, offers many different features that cover a broad enough spectrum to make this NAS an ideal choice for a variety of different users. The small business looking for a way to store files and run surveillance, the medium-sized business that needs a way for a subset of workers to access files via the cloud, and the prosumer who wants a personal server that covers all the bases of home-network storage needs will find the Iomega px2-300d suitable.
The diskless model is priced at $499.99; it is also available in 2TB ($699.99), 4TB ($999.99), and 6TB ($1,199.99) varieties.