Iomega iConnect Wireless Data Station Review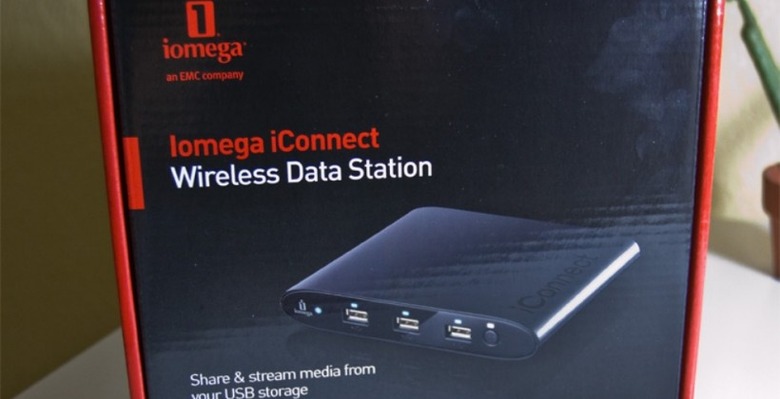 Sharing files – whether a central document store, a single place for backup or a huge multimedia library – is becoming more popular, and we're seeing an increasing number of devices promise to take your regular USB storage and make it network-friendly. Latest to the SlashGear test bench is the Iomega iConnect, a compact box that can share both drives and printers to local and remote users. Cheaper and with more features out-of-the-box, can it unseat the Pogoplug? Check out our full review after the cut.
The iConnect resembles a small USB hub, measuring 6.3 x 1.1 x 5.2 inches. Ports include a single gigabit ethernet along with four USB 2.0 sockets and a power supply input; inside, meanwhile, there's WiFi b/g/n connectivity and a 1GHz Marvell 6281 processor paired with 256MB of RAM. Iomega reckon it'll suck just 5W while active. In the box you get the iConnect itself, an ethernet cable to hook it up to your router (if you're not going with the wireless option), the PSU, a Quick Start guide and a CD with the full user manual and the Iomega Storage Manager app.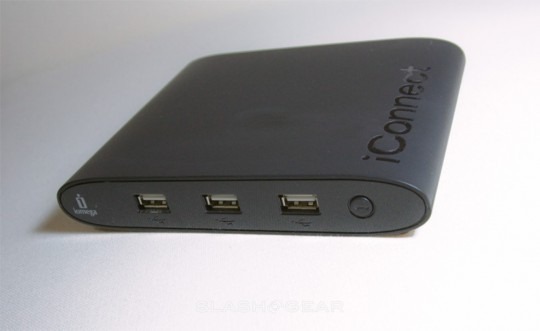 As a concept it's pretty straightforward. Rather than buy a dedicated NAS (Network-Attached Storage) you plump for the iConnect and hook up cheaper USB hard-drives and thumb-drives for your shared storage. The iConnect acts as a middle-man, making the drives visible not only to computers on your local network but, assuming you have an internet connection, to remote access via a secure webpage.
It's not just drives that you can attach, however. Up to two of the iConnect's ports can be used to host regular USB printers, sharing them over the network too. It's also a DLNA certified UPnP media server, and can stream content from the drives to compatible media players, whether they be computers, consoles like the Xbox 360 and PS3, standalone audio/video streamers and other devices. As we've seen on some of the more advanced NAS units, there's a BitTorrent download client (which means you can leave a file downloading without having to have your computer turned on), while a one-touch QuikTransfer button can be programmed to replicate a common task.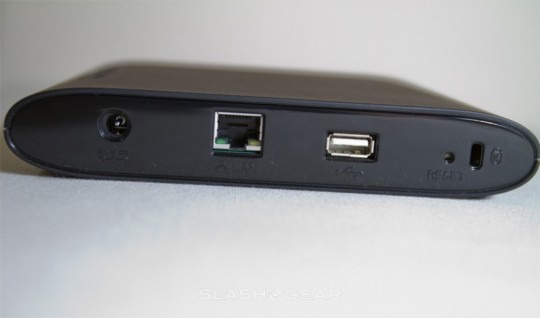 Setup is reasonably straightforward, but you have to complete the initial steps with a wired ethernet connection even if you plan to switch to wireless later on. The Iomega Storage Manager app automatically locates the iConnect (and leaves a shortcut – which opens a browser admin page – in the PC system tray or Mac menu bar) at which point you use the web interface to setup via a wizard. By way of bare minimum you have to give the iConnect a name by which it will be known on the network, fill in at least one email address (to which status updates will be sent) and set the clock. At this point you can go to the Network Settings tab and search for your wireless network, then pull the ethernet cord if you so desire.
Unsurprisingly, though, given the amount of things the iConnect will do there are plenty more settings panes you can work through. On a Windows PC the basic setup will have already triggered the assignment of drive letters so you can start accessing files on whatever storage you've plugged in. The most common request is likely to be setting up different users, and that's easy enough to do; if you've chosen to make one or more shared folders limited-access, you'll then be able to pick which that user has access to. That can include read/write, read-only or none. There's also administrator privileges, which are distinct from all-folder-access privileges.
Iomega include a copy of Retrospect Express (with versions for PC and Mac) for performing regular backups, but as long as your backup app can see a networked drive then it should be able to use the iConnect. Iomega have also made it Time Machine compatible, so Mac owners can use their in-built backup functionality instead if they so desire. Since you can have more than one drive plugged in at any one time, you can set up Copy Jobs – basically macros that copy data from one volume to another – and these can be manually initiated or set to run at scheduled times. There's also the option to have files copied from volumes discovered on the same network subnet as the iConnect, and you can assign a Copy Job to the QuikTransfer button on the front panel which will act as a one-press trigger to suck files over from a USB thumb-drive or similar to a preset folder. Finally, there's Picture Transfer Protocol support which will automatically copy images on a connected digital camera to a preset folder, optionally deleting them from the camera in the process.
Does it work? Yes, and slickly at that. In no short order we had several users set up, each with varying levels of access to multiple folders on different drives. On the client machines the Iomega setup app made it simple to map drive letters, or of course you can do so manually. There's obviously more lag involved in navigation and opening files than when they're on a local drive, but both the wired and wireless connections were fast enough for everyday use.
Using the iConnect as a media server is also simple; once turned on it automatically scans all drives for videos, music and pictures and then makes them available to UPnP clients across the local network. You can choose to deselect various storage volumes you don't want to share, as well as use it to host a shared iTunes library by dragging and dropping over your existing media. Like other media-sharing NAS, scans are performed periodically rather than continuously, so it's worth remembering to hit "Scan Now" if you've just copied music across and are wondering why it doesn't show up on your PS3.
Like the Pogoplug, you can access files through the iConnect remotely, though it's not set up by default. It's an easy enough process, however, and you get free 12 months of basic subscription access with your iConnect purchase, then $9.95/year after that. That allows you to pick a sub-domain address to which you'll go whenever you want to log-in (like yourname.iomegalink.com) from Iomega's existing selection. Alternatively there's a premium version which allows you to choose your own domain or use one you already own. Once that's done, visiting that URL and punching in your username and password will allow you to browse the volumes attached to the iConnect, presuming you have user-level access.
There's plenty more flexibility with the Iomega iConnect, but the good news is it does the basics – and more – very well. Setup is reasonably simple, as is user management, and with some forethought the Copy Jobs functionality can really speed up daily chores such as drive mirroring. Your system can be as basic as a single USB drive or as complex as a row of USB RAID arrays, and Iomega's web interface is clean and clear.
It's also cheaper than the Pogoplug – $99.99 versus $129 – though on the flip side the rival system doesn't involve any subscription fees; after 12 months of basic remote access you'll have to stump up for another year's worth of service. Still, the Pogoplug lacks integrated WiFi – it's ethernet-only – as well as DLNA streaming support, though we're told that's on its way in a future firmware update. There's plenty to like here about Iomega's system, and the ability to simply add in extra storage (either permanently or temporarily) is great. Best of all, your setup can be as complex or as basic as you prefer, rather than the outlay for a huge, prebuilt NAS (or a cheaper, smaller one you may later regret opting for). There are frustrations – the subscription for remote access being the biggest – but of course if you don't want to check your files from afar then you don't need to pay for it. Generally, then, the Iomega iConnect comes highly recommended.