IOGEAR 3-port USB Hub keeps ports clutter-free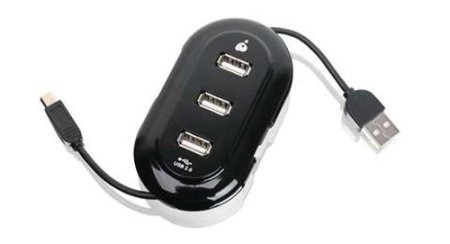 There are a ton of different USB hubs out there these days. Many pack in the ports but they often do so in a cluttered and wasteful way. With ports that are too close together and connectors that are too bulky, you always end up with at least one wasted port.  
But the IOGEAR 3-Port USB 2.0 Hub offers a solution to that pesky problem. Also known by its model number, GUH276, this Mobile Hub has a built-in mini-USB cable plus three USB 2.0 ports that face upward. They are also evenly spaced, meaning no wasted ports this time around.
This latest IOGEAR offering is stylish and simple. What more could you ask for? Plus, the price tag is a reasonable $12.95 with a limited three-year warranty. Now, you can't beat that. If you're always finding yourself one USB port short, this might be the right accessory for you.
[via Coolest Gadgets]