Internet Explorer for Xbox One to include new voice, gesture controls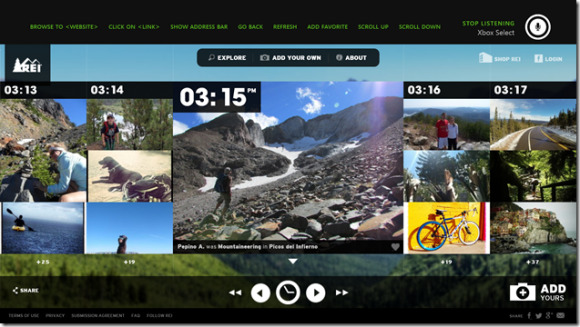 Microsoft this weekend rolled out a few descriptions of how the voice and gesture controls will work in Internet Explorer for Xbox One. In a post on Exploring IE, the company explained that you will be able to say "Xbox, select" to bring up a voice command menu when the Kinect is on, followed by the command like "Browse to" or "Click on". Gesture support will also be speedier than it is for Xbox 360.
Nothing in the post mentioned search, but some of the other confirmed commands include "Show address bar," "Go back," "Refresh," "Add favorite," "Scroll up" and "Scroll down." When saying "Click on," you just speak the visible words in the link and IE will recognize it. You will also be able to use voice for playing back embedded media and going to full-screen for video.
"Plus," the post read, "this is implemented in a web standards respectful way, so it will work with existing websites, with no extra work required by developers." And:
"Xbox recognizes the most-visited websites in your locale, plus all of your favorite sites. So if you're looking for the news, you can just say "Browse to New York Times."
Gestures for IE get a boost on the Xbox One as well. When the Kinect is on, you can reach out, grab the screen, and pull it back to zoom in; push out to zoom out. Press a link to navigate to the corresponding URL; links that are too close together will automatically zoom the screen in for accurate selection with little lag time. Pan around with your hand to scroll up, down, left and right.
The Xbox One is slated for release Nov. 22–not even a week from now.