Internet Explorer 10 platform preview 4 released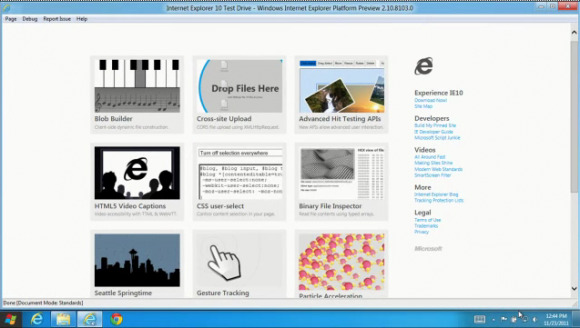 Microsoft has released its fourth platform preview for Internet Explorer 10, making it available today to those with a developer preview of Windows 8. IE10 integrates Microsoft's new Metro UI while maintaining the option for the traditional desktop interface. This latest test build adds more HTML5 support.
The HTML5 improvements of this platform preview 4 release include the following:
- Cross-Origin Resource Sharing (CORS) for safe use of XMLHttpRequest across domains.

- File API Writer support for blobBuilder allowing manipulation of large binary objects in script in the browser.

- Support for JavaScript typed arrays for efficient storage and manipulation of typed data.

- CSS user-select property to control how end-users select elements in a Web page or application.

- Support for HTML5 video text captioning, including time-code, placement, and captioning file formats.
This release can be downloaded at Microsoft's test drive site is only for the IE10 on the developer preview of Windows 8 and is separate from the current IE10 for Windows 7, which is only at platform preview 2. Microsoft released IE10 platform preview 3 for Windows 8 back in September and had revealed that Internet Explorer 10 will not be made available to Windows Vista or XP. New platform previews will be released every 8 to 12 weeks.
[via WinRumors]