Intel VP confirms Retina support in Ivy Bridge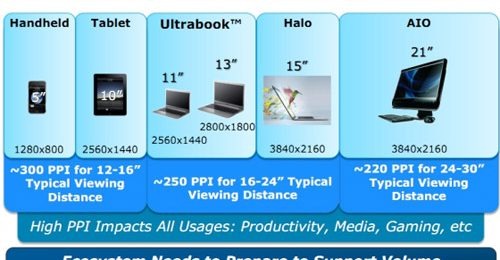 During the Intel Developer Forum yesterday, the company predicted that pixel-dense displays will become mainstream by 2013 in devices ranging from smartphones to desktop computers. Intel's VP and GM of the PC Client Group Kirk Skaugen also revealed that upcoming Ivy Bridge chips are built for Retina display computers, pretty much confirming rumors that next-gen Macs will indeed feature the high-resolution screen.
The first batch of Intel's new Ivy Bridge processors are set to begin shipping at the end of this month with Apple's refreshed MacBook Pro lineup believed to launch soon thereafter. Clues from OS X Mountain Lion have supported claims of high-resolution 2,880 x 1,800 screens in the new MacBook Pros, which are expected to be the first notebooks to feature Retina displays.
Ultrabooks are expected to follow suit later this year with 11-inch models capable of outputting 2,560 x 1,440 resolution. Both 21-inch desktops and 15-inch notebooks will be able to support the same 3,840 x 2,160 resolution that create a Retina-like effect. The term "Retina Display" is coined by Apple to describe their high-resolution displays where individual pixels cannot be discerned. It was first introduced with the iPhone 4 and was recently featured on the new iPad.
[via Liliputing]