Intel unveils its IoT platform for businesses everywhere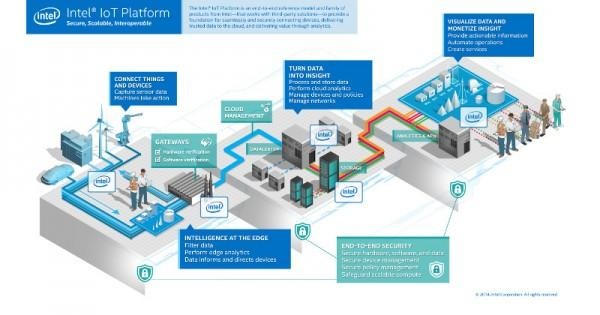 After failing to take the mobile device industry by storm, Intel is starting to look elsewhere for its next big break. It has already set its eyes on wearables, as the MICA smart fashion bracelet demonstrated. Now it is also laying the foundations for another venture, the so-called Internet of Things, or simply IoT. Intel's new IoT Platform is poised to cover anything and everything needed for enterprises to set up and then customize their own IoT implementations for securely connecting devices to the cloud and, in the end, save money and energy.
Next to wearables, IoT seems to be the next hot tech curiosity this year. Admittedly, most of the attention has been lavished on consumer-oriented technologies and products, particular smart appliances. But businesses also need their Internet of Things, and it is for them, as well as anyone else who can benefit, that Intel has designed its IoT Platform. The core goal of this platform is to provide an all-in-one solution, both hardware and software, in creating a foundation that can be later customized to address each company's specific needs.
Intel's IoT Platform tries to hit many targets all at once, of course with different weapons. For example, the issue of security is addressed by both McAfee and its own Intel Security. Connecting to the cloud is provided by Wind River Edge Management Systems as well as Intel's IoT Gateway. Software building blocks make use of Intel API and Intel Mashery solutions. And to keep track of it all, Intel's cloud analytics is being improved to also support IoT development kits. Of course, the beating heart of it all will be powered by Intel's processors, no less.
As ambitious as it may be, Intel knows that its IoT platform is worth nothing without an actual implementation. That is why it has partnered with the likes of Accenture and Dell to develop and deploy actual solutions based on the IoT platform.
That said, Intel isn't the only game in town and it is engaged in a race with other key industry players and rivals, particularly Qualcomm. In some cases, sides have been drawn and consortia have been named to push forward the Internet of Things, but from different points of view. IoT as a whole is still too new, if not somewhat chaotic, and there is no clear winner just, which is why Intel is trying to beat rivals to the punch this early. The question is whether it will be able to maintain that lead and beat them in the end as well.
SOURCE: Intel