Intel Super Spinner X18M and X25M SSD get price break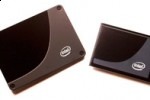 The Intel consumer SSDs – the X18M and X25M – are fast, they have been challenged countless times on test bench, but the result remained the same, it's still one of the best performance MLC NAND flash based SSD series available. But 80GB of storage space barely cut it, a full installation of Adobe Master Suite is already taken up 10GB, not counting your OS and other apps, and let's not mention the $595 price tag.
But good news for enthusiasts seek out quality than quantity, the 80Gb super spinner is now more affordable. Intel has recently cutting the price down by 34 percent, the 2.5-inch form factor mobile drive is only $390 (more discount from newegg), while the 160GB gets price break from $945 to $765.