Intel roadmap reveals plans for 5nm chips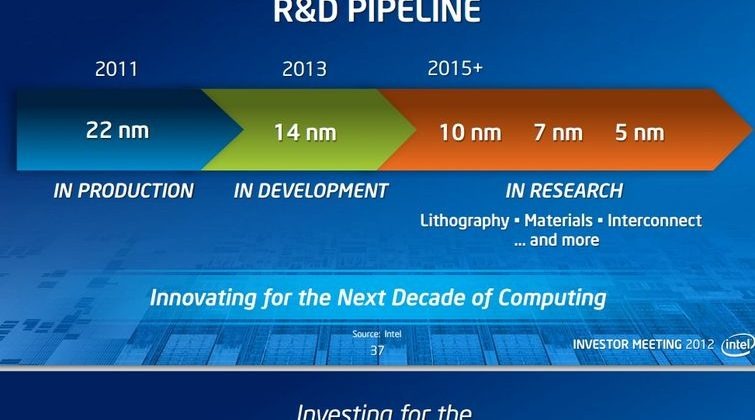 Slides were released during Intel's annual Investor Meeting that revealed an ambitious roadmap for the chip maker. Intel plans to shrink its chip fabrication process down to a mere 5nm, with a 10nm process set to release in 2015 and work having already begun for the 7nm and 5nm processes. The company's latest Ivy Bridge chips are 22nm and the next iteration for 2013 will jump down to 14nm.
Intel CEO Paul Otellini boasted that the company is able to push out new chip fabrication processes faster than any of its competitors thanks to its $2 billion a year investment in research and development and its employment of 1,900 PhD graduates. Intel has already begun building sites for its next-gen 14nm process in three locations and expects the new chips to arrive on time for next year.
Otellini also revealed that Intel plans to really focus on mobile chips, where the market is dominated by ARM. Intel is currently shipping 32nm mobile chips and expects to shrink down to 22nm by next year and then 14nm thereafter. The goal is to not only play catchup with its mobile chips, but to make them the company's leading edge in processes within three years.
[via PC Pro]