Intel processor roadmap leak highlights Kaby Lake and Apollo Lake CPUs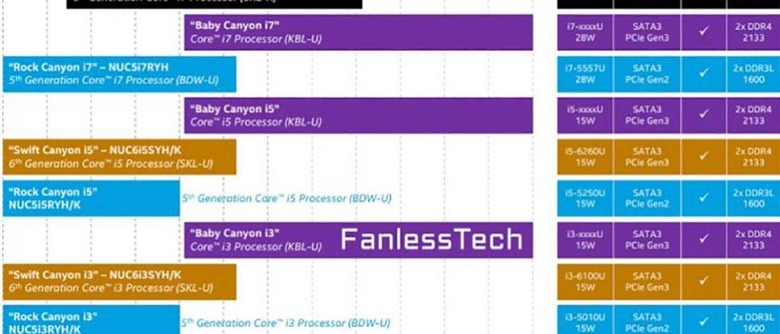 A roadmap claims to show what Intel has in its plans for the future of the processor market for computers, tablets, and other devices has leaked. The map has two new processor families that are set to launch at some point this year including codenames Kaby Lake and Apollo Lake. Both of those chips are 7th generation Core products.
Kaby Lake will replace the current Skylake line of processors that are used in laptops, desktops, and tablet devices. The Apollo Lake architecture are Celeron and Pentium parts that are designed specifically to be cheap and low power processors to replace the Braswell line. These Apollo Lake parts are also seen as a sort of replacement to the soon to end Atom line of processors.
Specifically the leaked roadmap here is about the Intel NUC computer and lets us see what parts will be under the hood of the next generation of the device. The first NUC with an Apollo Lake processor under the hood is set for the end of 2016 according to the map. More powerful NUC machines with Kabby Lake chips will land in early 2017.
The existing NUC machines appear to be sticking around with the Skull Canyon NUC on the roadmap through the end of 2017 and start of 2018. Word is that a small Apollo Lake NUC will measure 4.5" x 4.4" x 2" and has a 10W quad core processor inside. Two versions will be offered with the NUC6ACAYH as a bare bones machines supporting up to 8GB of RAM and a 2.5-inch HDD or SSD. A ready to roll version called the NUC6CAYS will feature 2GB of RAM, 32GB of storage, and Windows 10 Home installed out of the box. Similar systems running Kabby Lake processors will be offered with Core i3 through Core i7 processors.
SOURCE: Liliputing