Intel outs new quad-core Core i7 Extreme CPU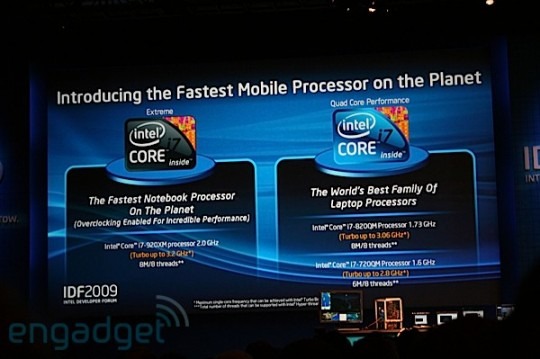 Intel's annual Developers Forum is in full swing, the products are coming out of the show at a furious pace, and we have already talked about a few of them today. Intel has now made on one of its own announcements with a new Core i7 Quad Core Extreme processor for laptop platforms.
The Core i7 Extreme CPU is said to run as fast as 3.2GHz in Turbo mode. That is one seriously fast CPU for a notebook. Turbo mode will cut the power and performance of the chip to preserve battery life, which is a big deal considering the amount of power the quad-core beast is likely to draw.
Intel also announced a couple more laptop processors including the Core i7 8200M running at 1.73GHz or 3.06GHz in Turbo mode. A Core i7 7200M CPU at 1.6GHz was also unveiled. Pricing and availability were not announced at the show.