Intel mini PC launches with Bay Trail processor and Windows 8.1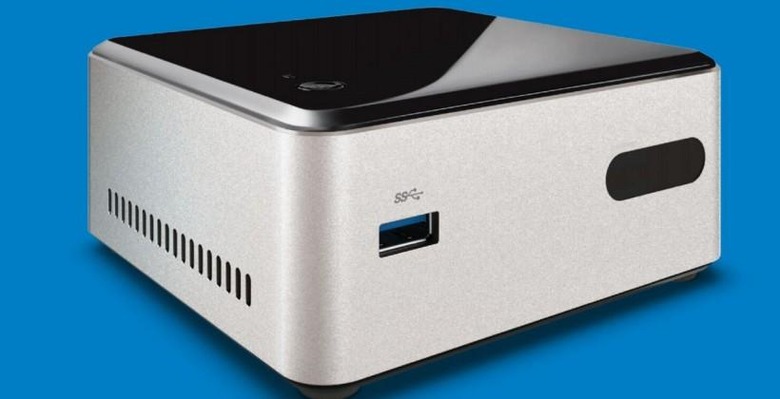 Intel has launched its first offering with a Bay Trail processor, the awkwardly-named Intel NUC Kit DN2820FYKH. With this tiny computer comes a budget-friendly price and Windows 8.1, as well as a variety of connectivity options and ports to meet most users' needs, whether using the PC as a desktop computer or as part of an entertainment system.
This new mini PC features an Intel Celeron N2820 processor available in up to a 2.4GHz dual-core offering, which is complemented by 1GB of RAM and Intel HD Graphics up to 756MHz. There's a headphone and microphone combo jack on the back, as well as support for up to 7.1 surround sound using HDMI.
As far as ports go, the PC offers one USB 3.0 port and two USB 2.0 ports, as well as an IR sensor on the front and an Ethernet port (10/100/1000Mbps). Storage support is for 2.5-inch HDDs or SSDs, and there's a single HDMI port for video. Connectivity includes Bluetooth 4.0, Intel Wireless Display, and 802.11 b/g/n.
Along with Windows 8.1, Intel has included its Visual BIOS and Visual Boot Manager. There's compatibility with Linux, as well as Kensington lock support. The mini PC is available now online starting at $140 USD, depending on what configuration is selected.
VIA: Liliputing