Intel Easy Migration promises one-click data transfer to a Chromebook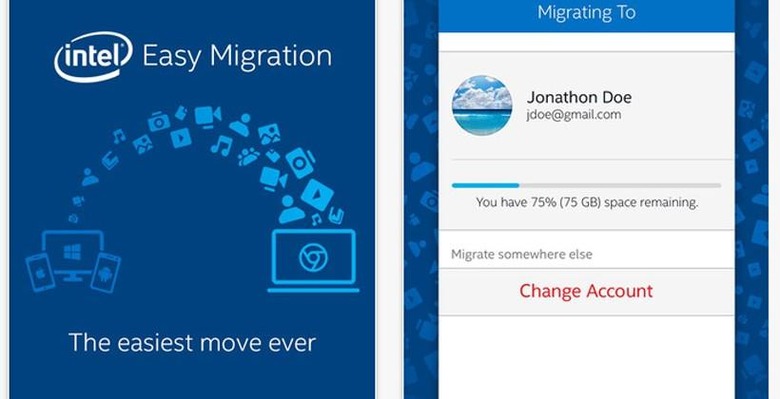 Intel is trying to make it easy for Windows PC and smartphone users on Android or iOS to migrate data from their device to a new Chromebook. Intel has introduced apps for Android and iOS devices as well as software for Windows PCs called Intel Easy migration. The goal of the software is to make it easy to transfer data like photos, video, and more to the cloud-based Chromebook.
The data that Intel Easy Migration will transfer to the Google Cloud for access by the Chromebook includes local and Hotmail contacts to Google Contacts. Users can also migrate all or selected photos and videos to Google+ Photos from their devices.
The migration process can be paused and resumed as needed. That is an important feature if there is a lot of data to transfer and the process will take a long time. The app and software for Easy Migration also provides the user with real time visibility of how much Google Drive space they have left.
Intel wants to be sure that people who use this migration service understand that it is a one-time sync and that the original data on the mobile device or PC won't be deleted. As long as the user sets the privacy to "private," the data can't be seen by other people. Apps are available for Android and iOS on Google Play and the App Store now. Windows software can be downloaded directly from Intel.
SOURCE: Intel