Intel Classmate convertible netbook revealed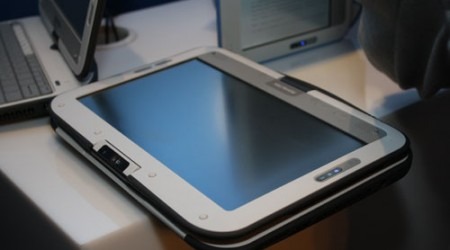 Intel has revealed a new updated Classmate PC. The Classmate got its start as a machine aimed at educational markets in emerging countries against the likes of the OLPC XO laptop. Intel is now showing off a new Classmate design that uses a convertible tablet form.
The new design is built around low power consumption with an Intel Atom processor, WiFi, and optional 3G, GPS, or WiMax connectivity. The new machine is designed for small hands and workspaces common in schools around the world. The screen is a 10.1-inch unit with a resolution of 1024 x 600.
The keyboard is water resistant as are the screen and touch pad. The keyboard has an anti-microbial coating and the chassis is bump and scratch resistant. The screen swivels 180-degrees going from a conventional laptop to a tablet. The battery promises 8.5 hours of run time when the optional 6-cell is used.
[Via Eee-pc]