Intel Atom Z2580 AnTuTu benchmark falls 20% following revision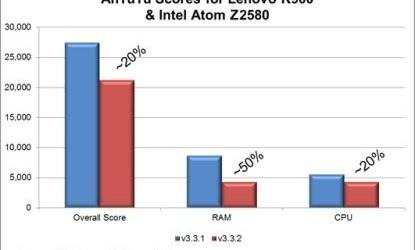 Earlier this month, the AnTuTu benchmarking tool raised a bit of a firestorm when it showed Intel's Atom Z2580 out performing offerings from Qualcomm, NVIDIA, and Samsung. This led to BDTI, a consulting firm, showing that not all instructions were being executed by the Intel processor, causing a false boost in results. As such, AnTuTu has issued a revised version of the benchmarking tool, and Intel has fallen 20-percent as a result.
Reportedly, this entire issue was the result of the ICC compiler, which was introduced in version 2.9.4 and utilized for Intel processors, while other processors utilized a GCC compiler. The issue caused the RAM test to be incomplete, causing the artificially high results. The revised version is 3.2.2 and was released this past Wednesday.
The ICC compiler is still used for Intel processors in the new version, but the new benchmarks scores are vastly different, with the Atom Z2580 taking a hit of about 20-percent and the RAM score in particular falling by half. Other scores are said to have been marginally affected, but the big changes center in these two areas.
Meanwhile, the results for the Qualcomm Snapdragon 600 and the Samsung S4 Oct were relatively unchanged, with the Exynos 5 Octa now ranking higher in performance the Intel Atom Z2580. Next month AnTuTu plans to issue new testing standards, at which point we'll get a chance to see what kind of result changes might surface with the next big release.
AnTuTu did not reveal what changes it made to the newly released version to correct these issues, and some are questioning whether they're now accurate. Looking at other benchmarks for the processors, however, the new AnTuTu results fall more in line with what we've seen elsewhere.
SOURCE: EE Times