Intel 710 and 720 series SSD specs revealed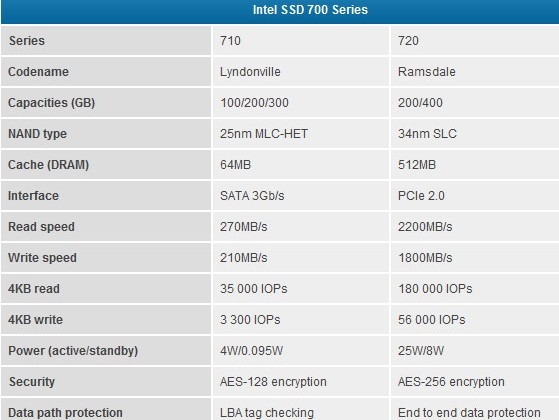 Intel has been pedaling some SSDs to enterprise and consumers for a while now and the enterprise versions of its SSDs have been a long time without a significant refresh. The specs on the replacements for the aging X25-E lineup of SSDs has now surfaced and the new 700 series are aimed at that enterprise like their forbearers. The new SSDs are the 710 and the 720. The 710 caries the codenamed Lyndonville and the 720 is dubbed the Ramsdale.
The 710 series will come in 100GB, 200GB, and 300GB with the 720 coming in 200GB and 400GB capacities. The 710 SSD has 25nm MLC-HET NAND under the hood with the 720 getting 34nm SLC NAND. The cache on the 710 line is 64MB with the 720 getting a 512MB cache. The main difference between the 710 and the 720 SSD is the interface used for connecting to the computer. The 710 use a SATA 3GB/s drive and the 720 uses the PCIe 2.0.
The PCIe drive is blazing fast with 2,200MB/s read sped and 1,800MB/s writes with the 710 getting 270MB/s read and 210MB/s write. The 720 PCIe interface also allows for very impressive 4KB reads at 180,000 IOPS and 4KB writes at 56,000 IOPS while the 710 scores 35,000 IOPS on 4KB random reads and 3,300 IOPS 4KB random write. The PCIe 720 SSD is much more power hungry needing 25W when active compared to the 710 needing 4W. That is impressive performance and at this time we aren't sure what the launch schedule is going to be, the best we have is Q2 for the 710 and Q4 for the 720 series.
[via Anandtech]