Intel today is bolstering its Xeon line of processors by announcing a new CPU and new class for the Xeon family. The new CPU is the Xeon E-2100, and Intel says that it's a good choice for entry-level servers. Intel is wasting little time getting this new CPU is out of the door, as the Xeon E-2100 is launching in general availability today.
When looking at today's two announcements side-by-side, the reveal of the Xeon E-2100 is probably the less exciting of the pair. Still, Intel believes that small and medium businesses stand to gain from the E-2100's focus on enhanced security. The E-2100, which is available with up to six cores, supports Intel SGX, and after a BIOS update coming early next year, will also support up to 128GB of system memory.
The E-2100 is a nice little bump up in capability if you're working with one of the entry-level server systems Intel is targeting, but it definitely isn't the star of today's announcements. That, instead, is a title reserved for Cascade Lake class for Xeon processors. Cascade Lake won't be available until sometime next year, but Intel shared a bit of information about the new processors today.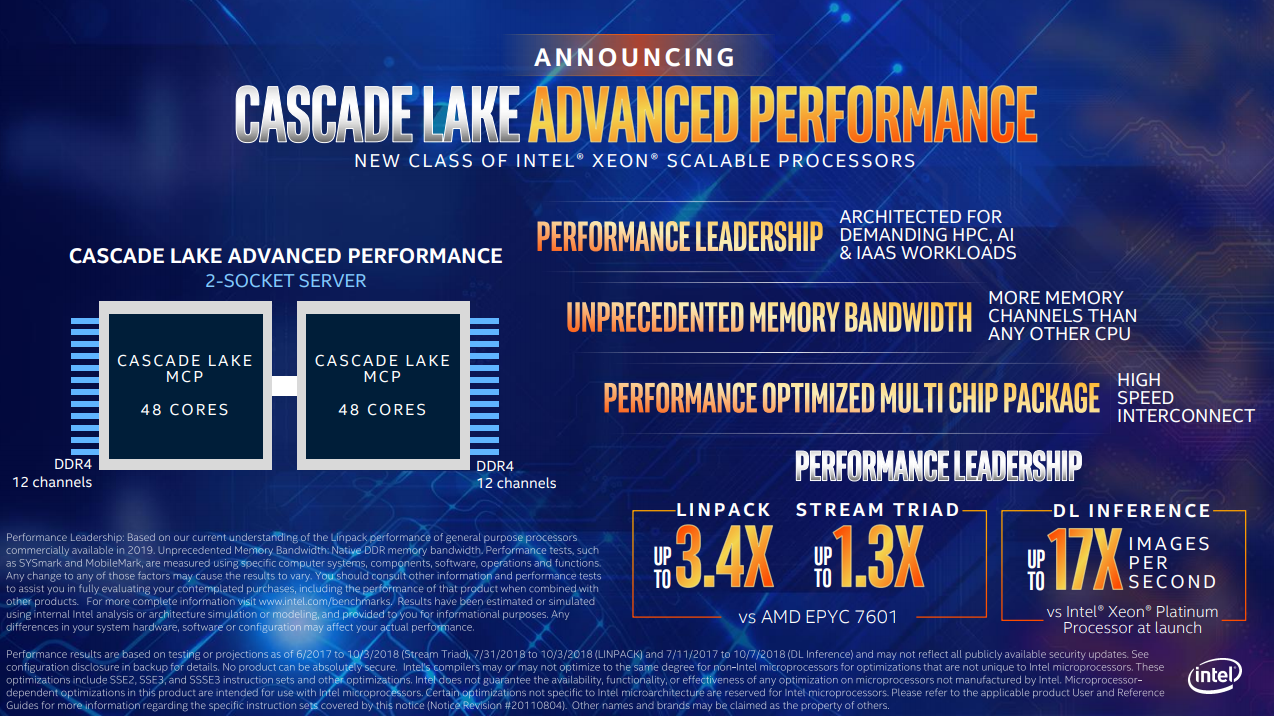 Intel says that Cascade Lake processors will be arranged in multi-chip packages with CPUs that offer up to 48 cores per socket. Each of those sockets also support up to 12 DDR4 memory channels each, so there's definitely the potential for a lot of power here. Intel envisions its Cascade Lake CPUs at the center of systems focused on artificial intelligence and infrastructure-as-a-service.
Of course, all of this sounds pretty impressive now, but the server CPU space might look at least a bit different by the time Intel launches these Cascade Lake Xeons next year. There's no solid release date for Cascade Lake just yet, but Intel says it should be here sometime in the first half of 2019. We'll see how these CPUs perform in real-world scenarios once they're actually on shelves, so stay tuned for that.