Intel 32nm 'Westmere' processor gets video demo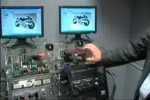 Intel unwrapped its new "working" 32-nm processor for both laptops and desktops at today's San Francisco event, and announced plan to invest $7 billion over the next two years on the new-generation 32-nm manufacturing technology at existing sites in New Mexico, Arizona, and Oregon.
The Intel processor, codename "Westmere" chip, which is a shrunken version of Intel's existing Nehalem micro-architecture, consumes less power at higher performance level, and integrates a 45 nm graphics die together with memory controller on the same package. It's reporting to have increased 22 percent in performance compares to the existing 45nm chip.
The first two Westmere chips will be codenamed "Clarkdake", a dual core 32nm logical processor with a graphic core for desktops, and a mobile use "Arrandale". Both are scheduled to be released in Q4 this year, on the other hand, the company has revised plan to carry on its dual-core "Havendale" (desktop) and "Auburndale" (mobile) chips manufacturing with 45nm process. Replacement is expected with higher end "Lynnfield" and "Clarksfield" without the integrated graphics, but the same 45nm profile with newer process.
The four upcoming chips will run on a new Intel Series 5 chipset, codenamed "Kings Creek" desktop and Calpella for mobile. (demo video below). Also, coming next year in Q2, Intel will release a 6-core "Gulftown" high end desktop processor with 32nm process but without the graphic core. The flagship 32nm processor is said to be capable of handling twelve threads at once with the next generation Hyper-Threading.