Intel 10nm chips finally ready to ship next month, 7nm in two years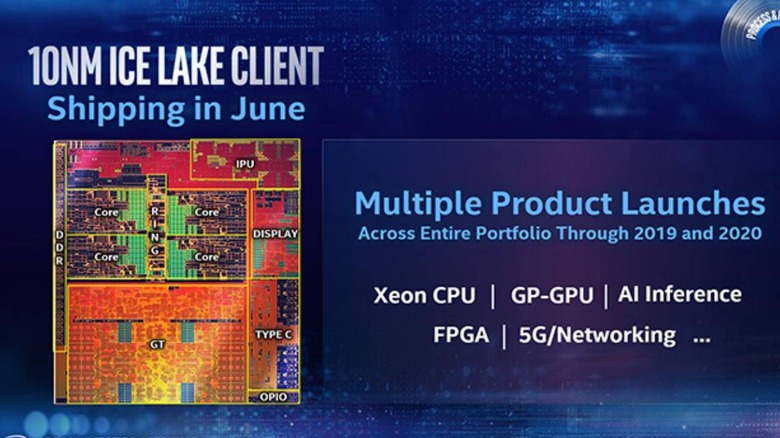 It may have long thrown in the mobile and IoT towels and just recently yielded its 5G stake, but Intel arguably remains the most important CPU maker in the computing market. Just ask the OEMs, including Apple, whose products and sales were impacted by Intel supply shortages. That's why the market is now probably both excited yet also cautious after Intel revealed its roadmap for the next three years, including the long-delayed shipment of 10nm CPUs.
Intel admitted that it bit off more than it could chew when it laid out its plans for 10nm chips to overthrow the then-current 14nm back in 2013. It is only now, six years later, that it's finally able to make good on that promise. For better or worse, however, Intel may have learned a lot from the 14nm process' extended period.
It will start shipping its 10nm Ice Lake platform in June, with OEMs shipping products in time for the holidays this year and server products in 2020. These 10nm chips promise 2x graphics speed, 2x video transcode speed, and up to 3 times faster AI performance compared to the long-reigning 14nm. Its experience with the 14nm, 14+nm, and 14++nm processes helped Intel develop a model for inter and intra node optimizations. In other words, customers won't have to wait long for the next stage of improvements.
The biggest leap, however, will be the 7nm process which Intel expects will be ready by 2021. It envisions a 20% bump in performance per watt and a complementing 4 times reduction in design complexity. Perhaps more curious, Intel's stated lead 7nm product will be a general-purpose GPU (GPGPU) based on its Xe-architecture. That, however, will follow Intel's first discrete GPU which it plans to launch next year.
This is definitely an ambitious and aggressive roadmap, especially for a company that has been bitten by making ambitious and aggressive promises. That said, Intel can't but help show a strong face as it continues to face competition not just from long-time rival AMD but from ARM-based chip makers as well.