Instant Cartridge Printer Concept Shows Disposable Printers Can Work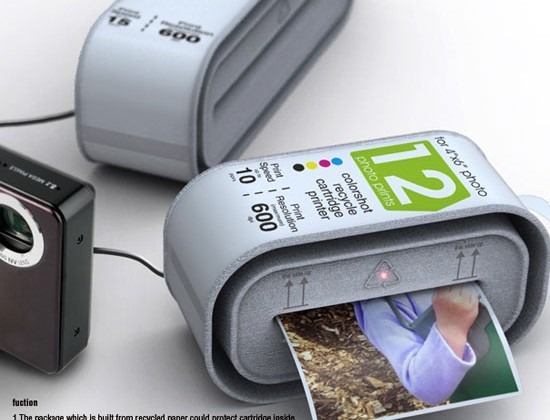 We need printers — after all, we're not in a completely paperless world, quite yet. But, seeing a concept such as this, from designers Chia-Chen Hsiao and Yuexun Chen, shows us exactly why printers themselves aren't all that necessary, and work more like a middleman and nothing more. These instant cartridge printers are designed to be ready on the fly, when you need them, and easily disposable, as soon as the ink runs out.
As with any other concept, especially a good one such as this, all we can do is hope that it comes to reality sooner than later. And, while printers in today's market may not be obsolete by any means, this concept does show that we don't need them. With the ability of phones, and other devices to connect to printers without having the need of a computer at all, plugging this instant cartridge into a digital camera, or mobile phone, to get the pictures you want right then and there seems to good to be true.
The concept works, because the cartridge itself is the printer. You'd go into a store, find the cartridge you need that fits the size of paper you need, color you want, and every other detail you'd need, and then print what you need right on the go. As soon as the ink runs out, you dispose of the cartridge, and go about your business. There are portable printers out there, yes, but they aren't disposable, so that's just one more bonus of this concept. We'll just say that we've got our fingers crossed.
[via Yanko Design]