Instagram integrates Layout to take multiple photos in one Story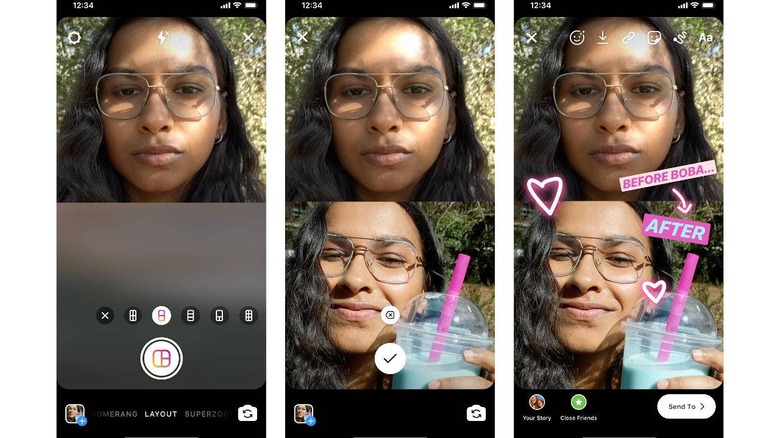 If a picture can paint a thousand words, multiple ones could probably paint a novel. Considering the number of photos and animated GIFs used in social media these days, that's no longer really just a figure of speech. That said, even the most photo-centric network is limited to the number of images you can take and post at a time, which is often just one. Instagram is now breaking down that wall by letting you take one photo after another and compose them into a single Story, all thanks to its Layout functionality.
Stories is one of Instagram's most popular features and has helped it keep its rivals at bay. Almost all of Instagram's new features have revolved around it but Stories still left users wanting more. Especially the ability to create a rather fancy composition from multiple images without having to step out of Instagram even for a brief period.
Laying out multiple photos into a single composition has become a rather big and confusing market for third-party apps. Even Instagram has its own Layout app that offered the same functionality with the added convenience of uploading directly to Instagram. It's still a few steps removed from the simplicity of taking a photo for Stories and it's something that Instagram wants to solve with this latest update.
Instagram Stories now integrates Layout directly into the camera so you don't have to break your flow. As the tweet says, just take one photo after another and the photos will be arranged according to the layout you have chosen. Of course, you are limited to the layouts provided by Instagram but it beats having to resort to an external app each and every time.
This, of course, could put the thriving third-party app ecosystem at risk of being abandoned by once faithful users. While some may soon gain and advertise more advanced features and layouts, the convenience of simply sliding to the Layouts tab and snapping a few instaphotos will probably trump those for all but the most meticulous Instagram user.