Insta360 GO hands-on: hands-free magic comes in a small package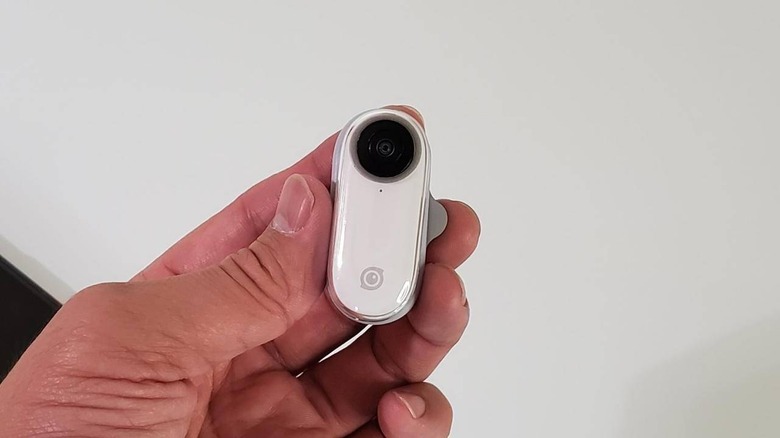 The mobile lifestyle has made capturing moments, whether live or for viewing later, a more common activity but holding a phone up all the time isn't just inconvenient, it can also be dangerous. There is no shortage of action cameras that free your hands but none have anything on Insta360's newest baby. Tiny and almost invisible, the Insta360 GO almost like something that can barely do anything but, in truth, it is one of the most impressive action camera thanks to the technologies that have made Insta360's name an insta-hit in the 360-degree camera market.
Design and Specs
The most distinctive thing about the Insta360 GO is how non-distinctive it actually is. The company's teaser pretty much hides behind someone's thumb and that's exactly how small it is. It's because of that diminutive size, however, that it is able to do wonders when capturing anything and everything you want. Stick it to any surface, hang it from your neck, slap it on a stick or just set it up in place, the Insta360 GO will get into places and angles that almost all action cameras, even the boxy GoPros, can't reach. And at 18.3 grams, you might even worry you lost it because you can barely feel its presence.
Despite that size, the Insta360 GO actually packs quite an imaging punch. It has an f/2.1 lens for a camera that's capable of 3040x3040 still photos or 2720x2720 25 fps videos with standard settings and output. It has a built-in 8 GB of storage inside to let the camera operate independently for at least 200 20-second clips before the battery runs out. And when it does, you can simply stick it inside the charging case to prepare it for another round.
Insta Magic
While the Insta360 GO is just OK as far as camera hardware goes, its real appeal comes via the 360-degree camera maker's technologies that it has taken from its professional products. The most important one of all is the FlowState stabilization that combines the camera's 6-axis gyro stabilization with algorithms to create footage that looks like it was taken with a gimbal-mounted camera. Given its small size, it's definitely almost magical that it is able to produce the stability and quality that you'd get from bigger and more expensive gear.
Designed from the ground up to be used with smartphones, the Insta360 GO offers a FlashCut feature that uses that AI special sauce to pick the best shots and combine them into a stylized cut. Simply pick your choice of background music and share with family and friends quickly. The GO app does allow more experienced users to craft those videos by hand. The tiny camera can also perform impressive feats like an unlimited number of Barrel Rolls and Hyperlapse that records up to 30 minutes of video footage at 6x speed.
All of the Insta360 GO's capabilities are for naught if they stay inside the camera or take ages to transfer. Fortunately, it couldn't be easier with the little camera that could. Simply slip the camera inside its Charging Case and plug the case into a compatible iPhone or Android phone and you're pretty much done in a flash. The GO app will even intelligently detect if you've already transferred photos and videos and won't copy them over again. All in all, using the Insta360 GO is a simple and seamless experience which belies the power it possesses and the amazing photos and videos it creates.
Better with Friends
On its own and with a partner smartphone, the Insta360 GO is already a potent product. The company, however, throws in an entire gang of accessories that allow the camera to reach further, almost literally. There is, of course, the Charging Case that can add another 2.5 charges on the go and bridge the camera and your phone. A magnet pendant allows you to simply wear the camera around your neck or even less conspicuously on top of your shirt while a sticky base lets you attach it onto any surface.
Along with the Pivot Stand and the Easy Clip, these accessories allow Insta360 GO owners to put the camera where it matters the most, like giving an obstacle-free first-person view of the action to, or where it can have the biggest impact, like on the lip of a cup of a delicious drink. And thanks to its inconspicuous and lightweight design, the Insta360 is the perfect companion to record all your once in a lifetime moments and memories.
Wrap-up
All of that, the tiny yet talented camera, the bunch of accessories, and the impressive experience, is priced at $199.99, available on Insta360.com as well as retailers worldwide. And despite that size, you can still have any Instas360 GO camera laser engrave to give it a personal touch. That price tag may seem too big for such a small thing but for all the features it bears in such a small package and all the amazing videos it can create, it's well worth the investment.