Insta360 EVO foldable camera records in 180 degrees 3D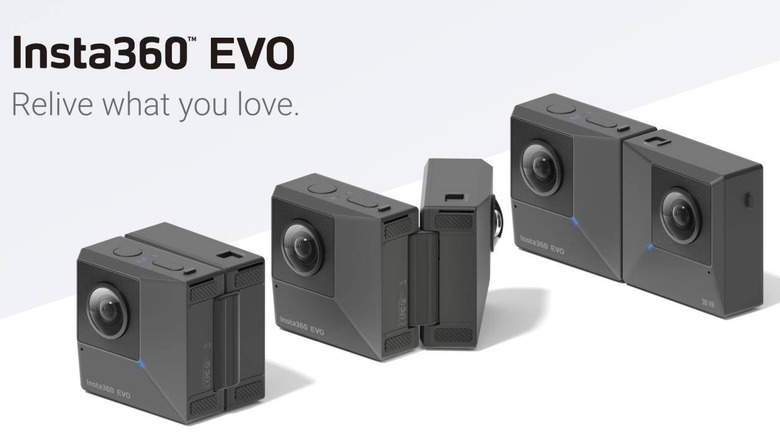 Foldable seems to be the new trend this year and it isn't just smartphones either. Insta360, a brand that has become synonymous with consumer and, recently, prosumer 360-degrees cameras has a new foldable product that, thankfully, isn't a smartphone. Whether you want to be immersed in everything that happens, even behind you, or prefer to record things the way you naturally see things, the new Insta360 EVO foldable camera has got you covered. Plus, the new Insta360 VR app and Insta360 HoloFrame will give you more options on how to relive those moments.
The point of foldable phones, at least in theory, is so that you won't have to choose between a handy phone and a large-screen tablet. The same is true with Insta360's new and rather unique EVO camera. Fold the camera and you have the company's famous 360-degree experience, offering 5.7K 360 video recording or capturing an 18 megapixel 360-degree photo.
Some people, however, prefer to see what they would normally see with their own eyes. The problem is that we see in three dimensions and most digital cameras don't. But if you unfold the EVO, you get a dual lens system that lets you capture 5.7K 180-degree videos or 18 megapixel photos in 3D.
Whichever mode you choose, however, you get the same features that have cemented Insta360's name in the market. FlowState stabilization takes care of the jitters when recording in 360 degrees and a new 3D stabilization tech doe the same for 180 3D recording. TimeShift still makes you the director of your own action scenes and whether you shoot in 180 or 360, HDR will result in natural and vibrant photos and videos.
While the EVO camera takes care of capturing the moment, Insta360 has developed new ways for users to relive them as well. The new Insta360 VR app lets you directly connect an Oculus Go or Samsung Gear VR to instantly play what the camera sees. More interesting, perhaps, is the HoloFrame. Simply pop it over a compatible smartphone screen, like a "reverse phone case", and you can enjoy a unique way to experience 3D photos or videos. Eye-tracking technology in the app aligns the content with the viewer's gaze, letting you see in 3D with no glasses or headsets required.
The Insta360 EVO foldable camera is available now from Insta360.com, B&H Photo Video, and international retailers for $419.99. The HoloFrame is available separately for the iPhone X, XS, XS Max, and XR. Soon they will also be available for the Galaxy S8, S8+, S9, S9+ and Note 8 as well.