Insider Talk: Wrapsol non-slip grip pad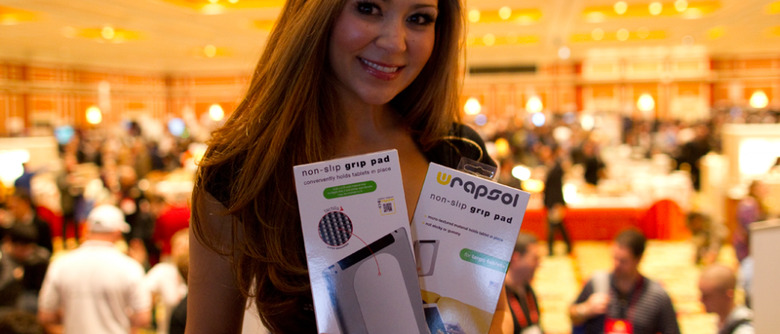 We were here at ShowStoppers 2012 in CES with Wrapsol. Today they unveiled the Wrapsol non-slip grip pad. We've seen products that do essentially the same thing before, but not with their superb 'tactile' technology. Tactilla isn't velcro or adhesive. It creates a wider surface area and tension so that i can even grip clothing.
To apply the grip pad, simply peel off the sticker from the back and apply secure it on the rear of your tablet or phone. It is made of 100% polyurethane and each box contains one pad and a set of instructions for installation. The grip pad presented to us was for large tablets and measured 8.25 x 3.75 inches – perfect for your Apple iPad 2.
If Wrapsol could somehow add their technology built-in to phones and tablets, I presume it would do fairly well. With how easy screens crack when dropped, it would help prevent many of the accidents by providing an extra grip. Wrapsol also produces thin films to protect your device from getting scratched. Most of their products are available at Staples, but they are always in stock over at Wrapsol's official site.