Infinity and JBL subs help decrease your home theater's clutter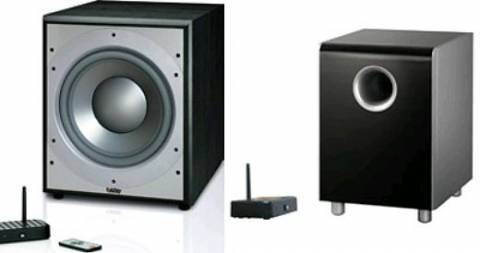 By going wireless they are not only easier to install, but easier to move and repostion, and like I said, its less clutter in your home theater. Now they haven't quite figured out the whole wireless power thing, so you will still need an outlet to plug the sub into, but an outlet is probably far easier to come by than it is to install audio wiring to wherever you want your sub.
The downside, other than the price of each, is that they run on the 2.4GHz frequency which means wireless devices galore have a chance of causing interference. There are however four channels to choose from which combined with the channel selection on the other 2.4GHz devices in your house should make it easier to find an interference free signal.
The Infinity PS212W will be selling for $679 and has a 400 watt 12-inch sub. The JBL model is a Cinema Sound CSS10W with a 300 watt 10-inch woofer retailing for $559. Like I said, they are kind of expensive, and if you're an audiophile, you probably already know to avoid these, but if you are just looking for a simple, decent sounding, bass solution for your new system, here you go.
Infinity and jbl subwoofers go wireless [via technabob]