Infiniti's Q60 Concept is gorgeous, arrives in 2016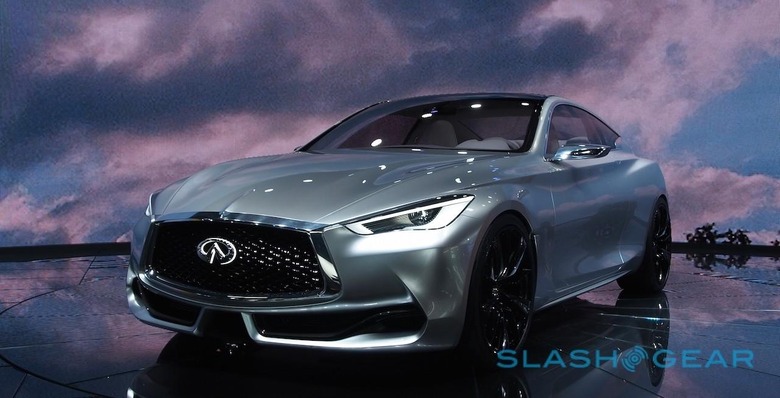 Are you a lusty driver? If you are, Infiniti has just the ride for you. Their new Q60 concept is for those with a "lust for driving", according to Infiniti's Executive Director of Design, Alfonso Albaisa. He's clearly enamored with it, describing it as "sultry", and "ready to pounce". That's all wonderful praise, but here's the issue: concept cars rarely see the road as we find them at these kinds of car shows. They end up as posters on a wall in an office, but not this time.
Infiniti says their Q60 will come to the road, and will be nearly identical to how we saw it on-stage. Infiniti isn't ready to discuss the finer details of the car, but do say it will do what any good successor does for a model lineup; it'll be more fuel efficient and powerful.
The Q60 does an excellent job of remaining sleek and modern, but also hold the Infiniti fort down. The big, bell-shaped grill looks as mean as ever, but also gives off a familiar vibe. If you're a fan of Infiniti, we're sure you'll like this one.
Inside, the new Q60 is all class and style, but still exceedingly sporty. Though more a classy sports coupe than aggressive powerhouse, the Q60 won't leave you wanting. The aggressive-yet-classy styling inside suggests it can transition from power commute to evening out with grace.
Outside, 'ready to pounce' seems apt. Albaisa also says the Q60 looks like it has something "slightly sinister" to it. We'd have to agree.
Again, not a supercar, and we don't have full specs yet, but we do know it will be coming out in 2016. It will also sport an all-new 3.0-liter, twin turbocharged V6, which will serve the "more power less fuel" dictum we told you about earlier. Infiniti's current engine rips 330 horsepower out, so we can't wait to get behind the wheel of this one and take it for a spin.