Infiniti's Emerg-E supercar EV official images leak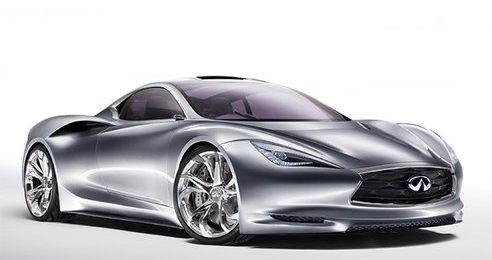 Images of Infiniti's new electric supercar called the Emerg-E have surfaced ahead of the official debut at the upcoming Geneva Motor Show. The images appear to be the official renderings for the Emerg-E and the vehicle certainly looks sleek, sporty, and stunning—a look that will hopefully help ween consumers off of its gas-guzzler counterparts.
The technical specs on the Emerg-E haven't been revealed yet, but it's expected to be a range-extended electric car similar to the Chevrolet Volt. This means that it will be a plug-in hybrid that has a gas engine that acts as a backup generator. The engine will be mid-mounted for better weight distribution and improved handling, while the electric portion will be similar to the Nissan LEAF's drivetrain but probably a more advanced battery with greater capacity.
It will be interesting to find out what type of performance this amazing-looking electric supercar has in store for us come next month's Geneva Motor Show. It certainly has the looks down pat and hopefully it pushes through the concept state to production. But even so, we likely won't get to see the vehicle on commercial show floors until 2014.
[via TreeHugger]