Infiniti unveils new 2014 QX60 hybrid crossover SUV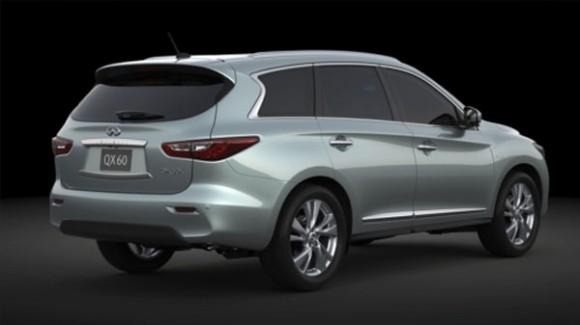 Luxury automaker Infiniti has unveiled a new hybrid version of its 2014 QX60 premium crossover SUV. The vehicle will make its official world debut at the upcoming New York International Auto Show. The vehicle is a gasoline electric hybrid and will hit dealerships in the United States this summer.
Infiniti expects the new hybrid crossover to achieve 26 mpg fuel economy on the combined city/highway driving cycle. That represents a 24% increase in fuel efficiency over the non-hybrid QX60 SUV. Infiniti expects the fuel efficiency of its hybrid SUV to make it the most fuel-efficient seven-passenger vehicle in its segment.
The hybrid system that Infiniti uses in the vehicle doesn't compromise performance, interior roominess, or cargo space compared to standard non-hybrid versions of the vehicle. The hybrid version of the QX60 won't be significantly more expensive either and is expected to be priced at about $3000 above the standard non-hybrid SUV models. The vehicle is powered by a 2.5-liter supercharged engine paired with a 15 kW electric motor.
Both the gasoline-engine and the electric motor are connected to an advanced CVT transmission. Infiniti estimates that net system horsepower will come out 250 hp. The vehicle uses Infiniti Direct Response Hybrid system using a compact lithium-ion battery and electric motor providing the power of a 3.5-liter V6 with the economy of a four-cylinder engine. The vehicle also makes use of an Infiniti Intelligent Regenerative Braking system to charge the battery during braking. More details to be available at the New York International Auto Show on March 27.
[via Infiniti]