Infiniti QX30 premium active crossover sports AWD and debuts in LA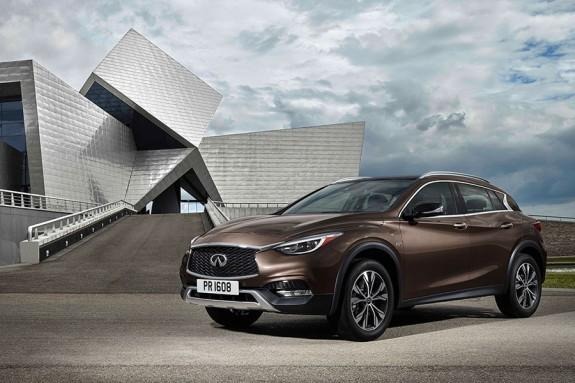 Infiniti has unveiled a new crossover SUV that is called the QX30 hailed as a new premium offering for global markets. Infiniti says that the new crossover has the appearance that buyers expect from a crossover with signature Infiniti design cues that make the new car look like part of the Infiniti family. The QX30 is fitted with intelligent AWD.
The QX30 is part of the first Infiniti production that has taken place in Europe at new production facilities in Sunderland, UK. The official world premier for the new crossover will happen simultaneously at the LA and Guangzhou motor shows.
Infiniti expects the QX30 to bridge the gap in the segment between the premium compact rivals and larger crossover models. QX30 has an overall height of 60.2-inches with standard roof rails and slim A-pillars for a less obstructed view. The intelligent AWD system used in the QX30 is able to send up to 50% o the power and torque from the engine to the rear axle to maintain traction on slippery surfaces.
Sensors send torque to gripping wheels when one wheel is sensed to be slipping. The standard transmission is a 7-speed dual-clutch unit with a manual mode. Engine options will vary with the market with diesel and gas power available. The car in the images has badges that say it has a 2.0L turbo under the hood. Pricing and exact engine options will be announced closer to launch.