Infiniti Q60 Concept details offered at Detroit Motor Show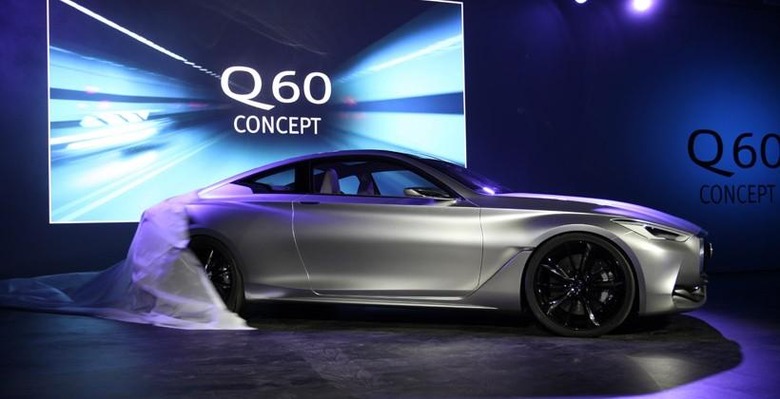 We've seen all of the teaser shots of the Infiniti Q60 sports car concept and seen the official images unveiled of the car. At the Detroit International Auto Show Infiniti is offering up lots of details about the Q60. One of those details is that the car has clear intent for production. That is no surprise, we said once before that the concept looked as if it were ready for production.
Infiniti has offered up more details on the car in Detroit and Infiniti says that the Q60 is Infiniti's vehicle aimed at the mid-size segment. While no exact timeline for production is offered, Infiniti has said that next year it will have a car in dealerships that has influences from the Q60.
Dimensions of the Q60 concept are 184.6-inches long x 73.4-inches wide x 53.9-inches high. The car has wide 21-inch wheels that are designed to fill up the wheel wells. Inside the car gets hand stitched leather wrapped instrument cluster, steering wheel, and door inserts. Carbon fiber door accents make the interior look sporty.
Under the hood of the Q60 is a 3.0L V6 engine with direct-injection and twin-turbos. The car has intelligent LED headlights that react to steering, speed, and elevation of the car and adjust their beams for the most brightness for the driver. Check out the video for more details on the Infiniti Q60 Concept.
SOURCE: Infiniti