Infinite Response Vax 77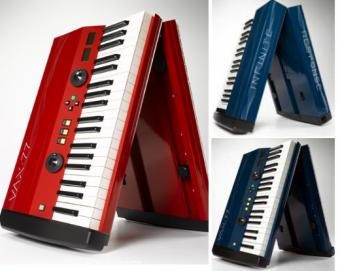 It's a foldable keyboard for the on the go musician. It weighs a mere 25 pounds and is said to fit nicely within the overhead compartments on the airplane.
There are at least 3 colors, red, black, and blue. There will also be something called a "polyphonic aftertouch" in there, which has little meaning to me, but seems like it would be important to someone who plays the keys.
Now if they could just get Red Octane or the company making Rock Band to come out with a Keyboard Hero game or at the very least a Keys part for Rock Band you'd be set. Plus if they did that, I might be motivated to learn scales, learn to play the keys/piano, all that good stuff so I could actually have some talent.
A folding keyboard for bands that do yoga [via crave]